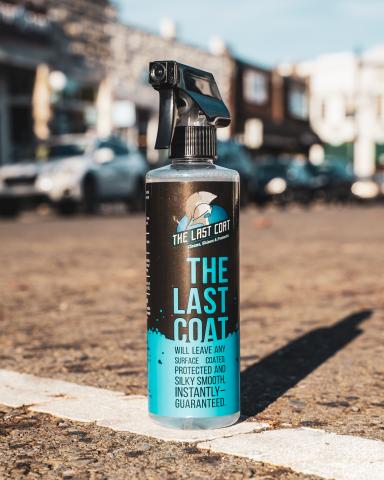 - June 10, 2020 /PressCable/ —
Auto body protection formula company The Last Coat announced the launch of TLC2, its instant car body surface protector with an updated nanotechnology formula. The upgraded water-resistant auto body enhancement spray protects body surfaces for up to 6 months under standard driving conditions.
More information about The Last Coat is available at https://www.thelastcoat.com
The Last Coat has launched TLC2, a spray-on DIY car sealant and protective coating with its new "Quantum Mesh" formula. The new formula is based on the latest in micro emulsified nanoparticle quantum dot technology from MIT.
TLC2 sealant nanoparticles are one-ten thousandth the size of particles found in commercial wax and ceramic sealants, giving it greater permeation to effectively fill car body surface defects. The water-resistant car body sealant protects painted surfaces from salt, UV rays, and microparticle abrasion.
The DIY spray-on auto protection formula sets in 7 minutes with a recommended curing time of 24 hours. TLC2 is safe on stainless steel, chrome, vinyl, glass, and plastics and has been successfully tested on thousands of domestic and imported cars, trucks, and motorcycles.
TLC2's "Quantum Mesh" formulation repels dust and water, preventing the formation of patches on the car surface. The long-lasting nonflammable coating makes car surfaces easier to clean and maintain in pristine condition. The Last Coat has released a video of its "torture test" showcasing TLC2's superior protective formulation compared to the top spray-on auto sealants in the market.
Visit http://preview.ntv.io/motortrend.com/sponsoredcontent.html?ntv_ccpvw=NFkAAAAAAAAAAAAAAAAABuoQA for details.
According to a spokesperson for The Last Coat, "We are excited to showcase TLC2 and its revolutionary DIY car care sealant formula. Our challenge was to find the formula that allowed the same versatility and ease of use as our original formula, but with higher durability and effectiveness."
The Last Coat is an American car care products company owned and operated by professional auto detailers. The company supplies a wide range of car care products including microfiber cleaning towels, spot removers, ceramic and trim restoration products, and ceramic coating sprays. All products are manufactured in the US.
For more information about TLC2, visit https://thelastcoat.com/collections/our-products/products/the-last-coat-tlc-standalone-bottles?utm_source=af&utm_campaign=05142020dfy and the URL above.
Release ID: 88961873