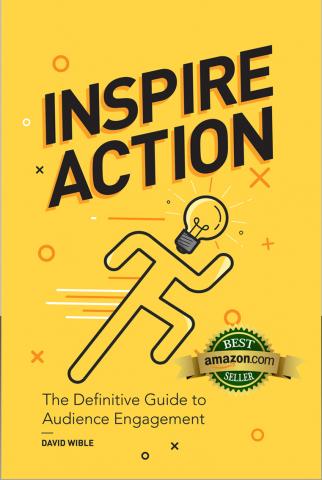 - October 16, 2019 /NewsNetwork/ —
David Wible, the CEO of Industry Weapon has successfully launched his book " Inspire Action: The Definitive Guide to Audience Engagement" last October 10, 2019. The Business book reached #1 in Amazon.com in its launching day, making Wible a new Best-Selling Author. Inspire Action: The Definitive Guide to Audience Engagement focuses on how to deploy content that resonates and captures attention in today's environment, with the aim of helping businesses to grow and make more sales. It covers a number of key topics and questions in the field of digital marketing and signage. The book offers step by step guidance written with candor, along with high-level game plans.
The book will help the readers master the audience engagement framework. They will learn the 3 keys that will help maximize the effectiveness of digital signage:
• Use Design to attract eyes and create clarity
• Use Data to deliver personalized content
• Use Devices according to the purpose at hand
Readers will also learn the four key ingredients to visual engagement
• Motion: Use movement appropriately
• Visuals: Multiple visuals for different viewers
• Time: The proper length of time to display visuals
• Color: Use color to evoke strong emotions
Each chapter demonstrates new approaches and strategies to challenges and provides bold opportunities for differentiation in the patients' financial experience. The book includes recommendations regarding concierge level service, speech analytics, and augmented reality as just a few examples of what can be done to deliver a better experience and outcome for patients.
As the CEO of Industry Weapon, David has over 20 years of experience tackling executive management positions, serving industries in a variety of niches. With Inspire Action, David is sharing the keys to his winning strategy. He is opening up the conversation to those well versed on the subject, as well as newcomers to the digital signage space.
His book has received rave reviews from his readers.
"Building, launching and scaling a competitive SaaS product is a feat entrepreneurs of all levels struggle to accomplish. Dave breaks down his winning strategy in a comprehensive way, effectively explaining why Industry Weapon's approach to digital signage technology has resonated so strongly with clients across the globe."
–DAN MARTELL, TECH INVESTOR AND SERIAL ENTREPRENEUR
Those interested in learning more about the book can visit here: https://www.amazon.com/dp/B07YVJDYHL/
Release ID: 88928242