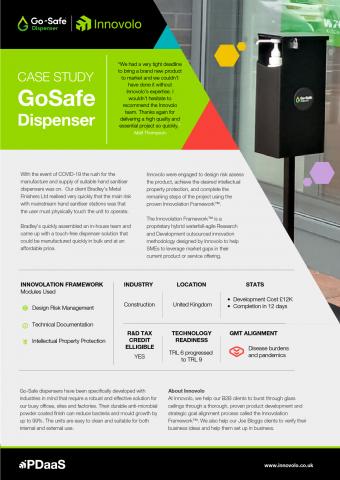 - July 26, 2020 /PressCable/ —
Innovolo Ltd revealed their new brief case study today on Go-Safe Touchfree Hand Sanitiser Dispenser. This case study demonstrates that Innovolo were able to turnaround the product development and ensure that it was ready for the market in 12 working days.
With the event of COVID-19 the rush for the manufacture and supply of suitable hand sanitiser dispensers was on. Our client Bradley's Metal Finishers Ltd realised very quickly that the main risk with mainstream hand sanitiser stations was that the user must physically touch the unit to operate.
Bradley's quickly assembled an in-house team and came up with a touch-free dispenser solution that, with Innovolo's assistance, could be manufactured quickly in bulk and at an affordable price.
Innovolo were engaged to design risk assess the product, achieve the desired intellectual property protection, and complete the remaining steps of the project using the proven Innovolation Framework.
Matt Thompson, Marketing and Brand Manager at Bradley's Metal finishers remarked, "We had a very tight deadline to bring a brand new product to market and we couldn't have done it without Innovolo's expertise. I wouldn't hesitate to recommend the Innovolo team. Thanks again for delivering a high quality and essential project so quickly."
The case study also made it obvious that product development can be fast, and it doesn't have to break the bank for companies serious about building business value through their innovation initiatives.
Innovolo Ltd owner Bradley Pallister says there are many people looking for insights and answers about Go-Safe Touchfree Hand Sanitiser Dispenser. This case study reveals in a practical way what's possible with the right information and guidance.
Go-Safe hand santiser dispensers have been specifically developed with industries in mind that require a robust and effective solution for our busy offices, sites and factories. Their durable anti-microbial powder coated finish can reduce bacteria and mould growth by up to 99%. The units are easy to clean and suitable for both internal and external use.
The case study is available at https://innovolo.co.uk/hand-sanitiser-dispenser
About Innovolo Ltd
At Innovolo, we help our B2B clients to burst through glass ceilings through a thorough, proven product development and strategic goal alignment process called the Innovolation Framework. We also help our Joe Bloggs clients to verify their business ideas, and help them set up in business.
The Innovolation Framework is a proprietary hybrid waterfall-agile Research and Development outsourced innovation methodology designed by Innovolo to help SMEs to leverage market gaps in their current product or service offering.
Read more at: https://innovolo.co.uk/hand-sanitiser-dispenser
Release ID: 88970038