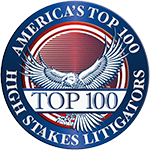 - February 4, 2022 /PressCable/ —
Recently, Personal Injury Attorney Richard M. Kenny of the Law Office of Richard M. Kenny has been selected among America's Top 100 High Stakes Litigators® for 2022. This marks the second year in a row that Mr. Kenny has been recognized for this high honor.
If an attorney is to be considered for America's Top 100 High Stakes Litigators®, he or she is required to have litigated a legal matter with at least $2 million in alleged damages at stake. That said, this is not the only qualification for an attorney to receive this award; they must also undergo what the organization calls "Qualitative Comparative Analysis." During this process, the organization will evaluate an attorney's experience, previous case results, reviews on Google or AVVO, reputation within the legal community, whether they've participated in any pro bono or community service, and more.
Once the qualifying process is complete, America's Top 100 High Stakes Litigators® will select only the top 100 qualifying attorneys in each state to receive this award. This means that fewer than 1% of attorneys across the United States receive this award, and even less in New York alone.
Mr. Kenny began his career as a civil plaintiff attorney over 30 years ago. Since he got his start in the legal field, he has delivered over 150 verdicts. This is far from the first award Mr. Kenny has received in his time as a personal injury attorney; he has also been recognized by Super Lawyers, Lawyers of Distinction, Top Attorneys in New York, Best Attorneys in America, and more.
Mr. Kenny received each of these awards by showing his dedication to each and every case he's taken on over the years. Just some of the more notable cases the Law Office of Richard M. Kenny has won on behalf of their clients include over $25 million for first responders who sustained injuries in the 9/11 tragedy, $18 million for a paralyzed dockworker, $13 million for a car accident victim who sustained catastrophic injuries, and $6.2 million for a construction worker who was injured on the job.
For decades, the Law Office of Richard M. Kenny has worked to provide victims of malpractice, negligence, and wrongful death in New York City with the compensation they need to heal, and if are someone who has been injured at the hands of a negligent party, they are ready to assist you, too. Contact the Law Office of Richard M. Kenny today to schedule your free case evaluation.
Release ID: 89062721