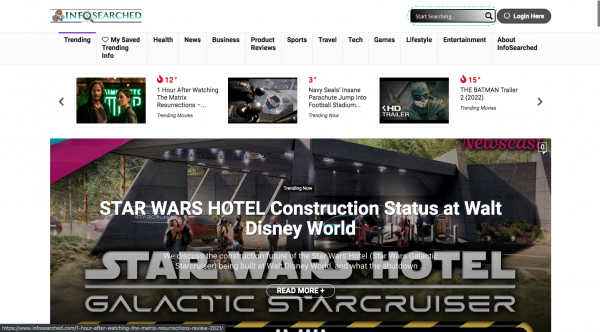 - February 8, 2022 /PressCable/ —
Infosearched is a website dedicated to looking for the best content online. The Infosearched team does extensive research on trending topics, so their users don't have to—thus the term "info" "searched." They then feature only the most popular topics for their visitors to enjoy. Their robust content library makes them one of the most authoritative sources of information, and they have established a reputation as a place where one can "find it all."
What makes Infosearched different? They are revolutionizing the way people consume media on the web by presenting only the most popular content in news, finance, sports, politics, entertainment, and more. They amass vast amounts of information into an intuitive platform and curate collections of information for users to consume quickly. Infosearched hosts different media types, including video, gamification, and training modules. The platform is organized, categorized, and easy to navigate. This eliminates the need for visitors to cull through endless search results pages to find relevant content.
Infosearched also includes a built-in search engine that allows users to explore topics that are not currently trending. Users can quickly access relevant information and save time wading through vague or irrelevant search results. By dedicating its resources to compiling information, Infosearched can continually expand its content library.
Users have touted Infosearched.com as a source of instant gratification when looking for information. "The content on Infosearched is quick and easily digestible," stated Mel Little, an avid user of the platform since its early inception in 2012. "I have been able to learn so much about expanding my investment portfolio with their Bitcoin Trading Tips," he stated. "I highly recommend visiting the site and making it a bookmark."
Inforsearched is committed to being an easy-to-use platform that doesn't overwhelm its visitors with irrelevant results and advertisements. Their goal is to provide compelling content that is versatile enough to keep their users coming back regularly. They have enhanced their site with "Save" options, allowing users to view the content at a later time if they wish. They've also added a new Brain Games section to stimulate their trivia-loving audience.
To learn more about Infosearched, visit the site at www.infosearched.com and explore the platform's various features.
Release ID: 89062642