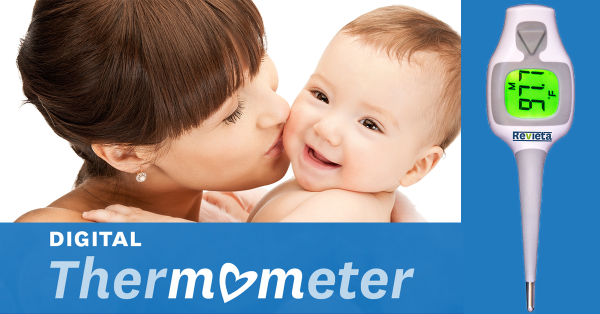 - April 22, 2016 /PressCable/ —
A "family friendly" digital thermometer has been launched by Info Solutions Fuzion under its new Revieta brand name. The flexible thermometer can be used to take oral, rectal and underarm readings producing results with clinically-proven accuracy in just eight seconds. Its special "Feverglow" function has LCD lighting—glowing green for normal temperature and red when there's a fever.
The thermometer beeps when results are given and—for ready comparison—stores the previous measured temperature. It can be washed in the dishwasher for thorough cleansing.
Daniel Vaudrin, brand manager for Revieta health products, said, "The thermometer is suitable for the entire family but we believe new moms will find it especially useful. It's an easy-to-use and affordable product that should be in every home's medicine cabinet. It also makes a great gift for baby showers."
Revieta is a new brand for Montreal-based Info Solutions Fuzion which has been marketing products since 1999. The company helps small and medium sized businesses market online a wide range of products, most notably Mermaid Tails, hair products, and pet supplies. Its goal is to offer clients' products that are innovative and which help make everyday living easier.
The digital thermometer is the first under the Revieta brand name, so-called because "vie" is the French word for "life" which is at the heart of the brand, and the entire name is a play on the word "revitalize," that is "to give more life."
Vaudrin added, "Finding products and tailoring them to fit the needs and wants of our clients is so exciting. Receiving reviews whether they are for praise or in the "room for improvement" category, is great because it gives us the opportunity to know what works and to make even better products available every day."
The digital thermometer is exclusively available on Amazon.com. It has readings in either Fahrenheit or Centigrade and is provided with a convenient storage case. It also comes with a five year guarantee.
For more information please visit: www.revieta.com
Release ID: 111736