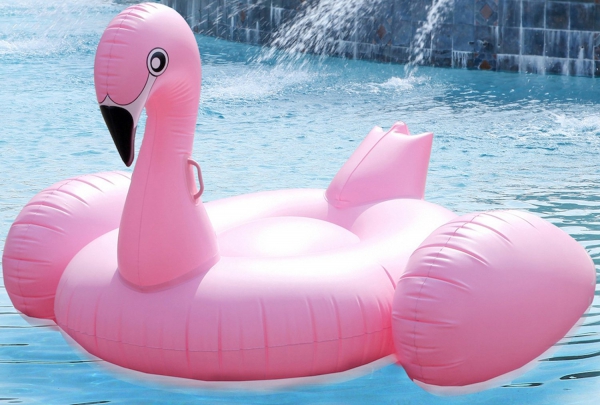 - November 11, 2016 /PressCable/ —
Christmas is fast approaching, but the inflatable flamingo by Teddy Shake makes a perfect gift for summer, and the company is reminding customers of that.
"As the days get shorter and the weather gets cooler, you find yourself naturally longing for summer," said Teddy Shake spokesperson Bailey Anderson. "What says summer more than a bright pink inflatable flamingo?! We are encouraging our customers to purchase our flamingo float now. It can be used indoors for lounging. It can be used on vacation. It can be used as a reminder, promise and hope that very soon; the days will be longer, the temperature warmer and you can be relaxing in the pool….on your very own pink flamingo."
The Teddy Shake inflatable flamingo float measures 80-inches in length and is made of a durable, bright pink vinyl. It has multiple valves to make inflating the flamingo easier. There is room for one or two people to ride on the float, or for a single person to fully stretch out and relax.
Customers love the Teddy Shake flamingo float. Over 250 customers have left reviews for the float on Amazon.com. 100% of customers stated they liked their flamingo float. One customer left a five-star review and said, "I got this float at the end of the season so that we have a nice new float when we open the pool next summer. My kiddos, however, insisted that we open the float and blow it up in the kitchen so they could play on it immediately. This float took up most of my kitchen, and my kiddos were using it as a trampoline (probably not recommended). They had so much fun! The float was sturdy and had no trouble supporting jumping toddlers. Once they were done, we pulled the plug, and later that night it had deflated without any difficulty. I cannot wait to use this in the pool next summer!"
The Teddy Shake inflatable flamingo float is currently priced at $39.99 and is sold exclusively on Amazon.com. Free shipping is available on any Amazon order over $49.
About Teddy Shake: "As relaxing as a Bahama breeze; Teddy Shake makes the world's most relaxing, fun, and quirky pool floats for you and your family. With constant R&D and innovative thinkers working to make the most incredibly pool floats and toys possible, we want nothing more than for you to have the time of your life."
Release ID: 145286