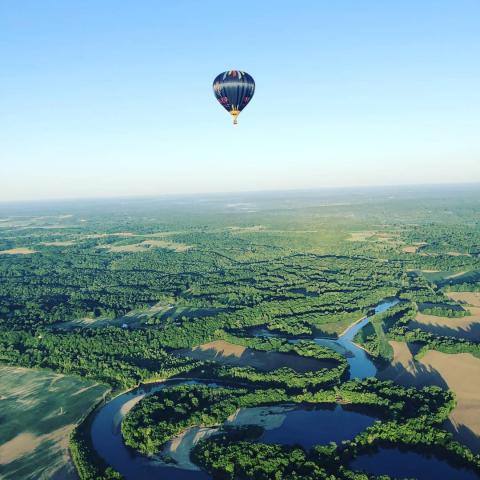 - November 9, 2020 /PressCable/ —
Outdoor enthusiasts, weekend warriors, and local tourists are looking for unique things to do in Indiana. With the weather turning cooler and the leaves turning colors, many people are taking their enjoyment of the state parks in Indiana to new heights with hot air balloon rides.
Bloomington Indiana is in the heart of protected natural areas and offers many refreshing and relaxing outdoor adventures for people getting out of the cities for a break. Bloomington Balloon Rides is strategically based in the town to provide unforgettable park tours from the sky.
One passenger, Cinda Ferguson shared her experience, "Had a wonderful time on our balloon ride tonight. It was a perfect night and a perfect ride. Our balloonist was great- personable, knowledgeable, and great at his job. What a great way to spend an anniversary, birthday or just because you've always wanted to go up in a balloon." This is just one of the reviews from many passengers who have enjoyed a flight with Bloomington Balloon Rides over the years.
A few of the southern Indiana state parks around Monroe County offer a space to unwind.
For example, Monroe Lake covers nearly 11,000 acres near Bloomington Indiana. Visitors enjoy camping, hiking, boating. Popular fish include yellow perch, walleye, largemouth bass and bluegill. Vacationers may choose to rent a cabin near the lake to enjoy using it as a home base. Brown County State Park is nearby and also offers many ways to enjoy the natural surroundings.
Another popular Yellowwood State Forest offers campgrounds and hiking trails, along with access to a 133 acre lake stocked for fishing.
North Fork State Wildlife Refuge, Stillwater-Northfolk Wildlife Resting Area, and Pine Grove State Recreation Area to the southeast of Bloomington Indiana receive five star reviews for their relaxing, quiet atmosphere and the ability to observe various animals such as herons, eagles, and other wetland creatures. As the weather cools, the bugs aren't as prevalent and observing the wildlife is even more enjoyable. Touring over this area by hot air balloon can be an even more enriching experience as you can observe the creatures and scenery from above without making a sound.
The Charles Deam Wilderness is another very popular destination with 37 miles of scenic trails and 13,000 acres of vast forests. No motorized vehicles are allowed in the wilderness area so touring from above may be the most efficient and awe-inspiring way to tour the park.
Each park or recreation area includes details on current access or closures on their websites. To enjoy the parks in a new way whether they are open or closed, we recommend getting in touch with Bloomington Balloon Rides at https://www.bloomingtonballoonrides.com for an unforgettable hot air balloon ride as a unique outdoor adventure in the heart of the midwest.
Release ID: 88984834