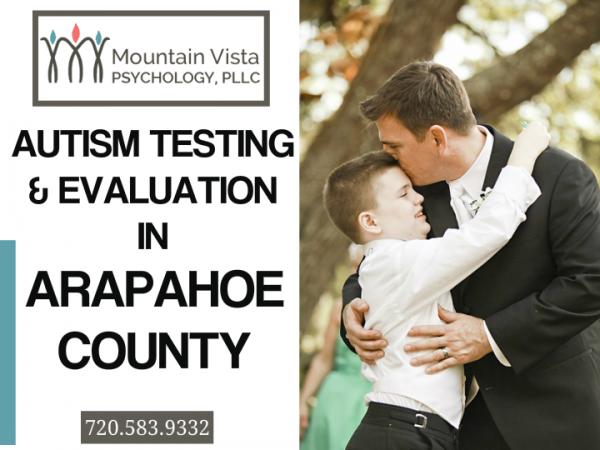 - November 13, 2019 /PressCable/ —
Autism Spectrum Disorder (ASD) is a neurodevelopmental disorder that begins in early childhood and continues throughout a person's life. Those with ASD typically interact with others, communicate, and learn differently than those without ASD. Over the last several years, understanding of Autism has increased dramatically. Mountain Vista Psychology has been at the forefront of providing an evidence-based interventions for those on the Autism Spectrum. MVP has helped many of those in Denver and neighboring surrounding cities, determine the presence of ASD, the severity, and how to cope with it.
Mountain Vista Psychology offers thorough evaluations forAutism Spectrum Diagnoses for toddlers through adulthood. Some might view this period of evaluation as potentially stressful and full of uncertainty, but the staff at Mountain Vista Psychology supports their clients through every step. After the testing has come to an end, a written report and in-person feedback session is provided. With this process, the individual will be able to find out what strengths they are viewed as having as well as areas of needed support.
Based on the results of the test, recommendations are given for the best possible direction with moving forward. Autism Testing for children and teens is available for parents who would like to see if their children are on the Autism Spectrum. In addition, adults who experience such things as "feeling different from others and not knowing why, difficulty in understanding others and how to respond to them, challenges adjusting to change, etc" have the opportunity to get tested for Autism with MVP as well.
Mountain Vista Psychology staff are readily available to answer any questions regarding Autism. Getting an evaluation completed is a big decision and having all the information needed to make the best decision is extremely important. If looking for more information or desiring to set up an appointment, call 720-583-9332. In addition, more helpful information can be gained by downloading a free report about reducing stress. It is located on the right-side toolbar of Mountain Vista Psychology's website.
Release ID: 88933919