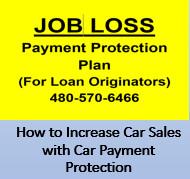 - April 16, 2020 /PressCable/ —
A Car Payment Protection Plan is now available to Car Dealerships throughout the US looking to increase sales volume in a bad economy. This is for dealerships interested in being proactive in a World shaken by uncertain times and economic turmoil. This new protection plan provides car buyer's the confidence to spend. https://youtu.be/105yeszXHHw
With an uncertain economy and massive job losses, car dealerships can now add job loss protection to every sale. Michael Bell an agent at Loan Payment Guardian, makes a point of saying "Things are going to change when the word gets out about our Job Loss Protection Plan because it will help stimulate car sales."
Michael Bell continues… "Our service shifts the buyer's mindset from concern about making car payments if they lose their job. My goal is to let car dealers know this option is available to help their customers buy. Ultimately this is going to be a huge benefit because car dealers can add job loss protection at the time of sale, and it will make a buyer's car payment for up to 6 months should they become unemployed."
In addition to job loss payment protection, we also help customers affected by financial hardship including Medical and Legal Advice, Debt Management and Credit Counseling. And if they qualify for their States unemployment, they can also receive unemployment benefits as well.
We have been helping consumers relieve the stress that results from financial hardship since 1991! Our add-on service boosts the customers confidence in knowing if they decide to make a purchase and they suffer a setback their monthly car payment will be paid for them.
This protection provides a unique way to drive more foot traffic, leads, phone calls and sales in uncertain times from customers asking about car payment protection. Making car buying less stressful and more attractive in uncertain times.
Our Job Loss Protection Plan is for any dealership throughout the US and can be added to the front or back-end at the time of sale. To find out more visit https://youtu.be/105yeszXHHw
Release ID: 88953265