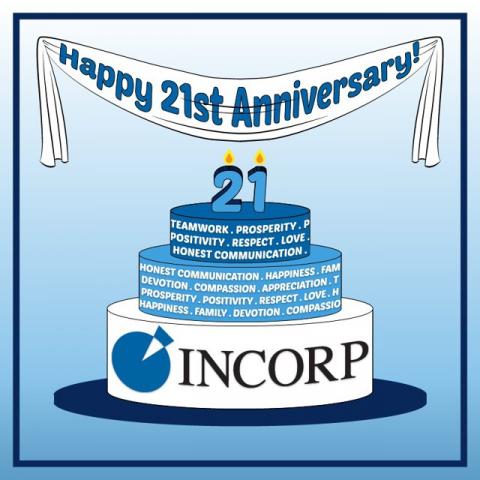 - January 17, 2019 /PressCable/ —
Las Vegas, NV – On their 21st birthday, InCorp continues to thrive as one of the largest national registered agent service providers in the country. As part of their commitment to the community, each year InCorp works with a local organization to help make the holidays brighter for families in the Las Vegas Valley. 2018 was InCorp's 8th year helping the Las Vegas Rescue Mission make Christmas gifts possible for children of more than 1500 families.
InCorp team member Brittany Kosmala stated simply, "It feels so good to give back to those in need during the holiday season."
Bearing gifts of appreciation and positivity, InCorp's team members share their thoughts on their favorite core values of InCorp's Mission Statement.
Stephanie Keener has been with InCorp since October 2017 and values honest communication most as it affords her the opportunity to improve. "I can't correct what I don't know." She enjoys the teamwork of InCorp and feeling appreciated for what she does well. "I'm working toward obtaining more responsibility and hopefully a promotion of some kind in the future."
Taylor Staggs has been with InCorp since 2014 and appreciates that the values complement each other. "Appreciation and teamwork go hand-in-hand." She has delighted in seeing InCorp come together as a team since the release of their new Core Values & Mission Statement. "Everyone deserves to feel like they are a part of something bigger." Among her visions for 2019 is a plan to "build the strongest team that Managed Report Service has ever had."
Jennifer Freeman values InCorp's commitment to caring for each client's business as though it were her own. "We've got your back and we understand how truly important it is to help you start or maintain your dream." She is inspired by the respect she sees her manager and supervisor share with each other and their clients every day. Jennifer is looking forward to seeing the relationship between the Delaware and Nevada offices thrive in 2019.
Kevin Jensis has been with InCorp for 6 years and appreciates the caring, compassion, and family aspects of the team. "InCorp takes very good care of their employees and therefore employees feel good about their work and that's reflected and felt by the clients." Kevin is looking forward to seeing his role grow in 2019.
Stacy Stanfel has been growing with InCorp for more than 10 years and values positivity most. "I truly feel a positive attitude can make or break a situation." She appreciates the special sense of family that is shared within InCorp's team. Stacy predicts "greatness" for InCorp in 2019.
About InCorp:
Incorp Services, Inc. was founded in January of 1998 solely to service entities of a private investment bank. It's expansion into providing registered agent services to the public was wholly organic and steady. Since it began providing national registered agent services in 2003; InCorp has not only grown to be an industry leader through continuous innovation with products like EntityWatch ®, they have maintained an A+ BBB rating and been voted as a Best Place to Work in Las Vegas for three consecutive years.
InCorp can save you (or your clients) thousands to tens-of-thousands of dollars, or more through their value priced services and efficiency rich tools and technologies! Selecting InCorp as your registered agent is your best choice to:
* Minimize your risk of incurring late penalties
* Minimize tax penalties assessed for missing filing due dates
* Eliminate risk of default judgment for missed service of process
* Avoid statutory non-compliance for not maintaining legal status as a legal registered agent
Contact InCorp if you are interested in exploring their commitment to quality and service. Call InCorp now at 800.2.InCorp (800-246-2677) for more information.
Release ID: 471847