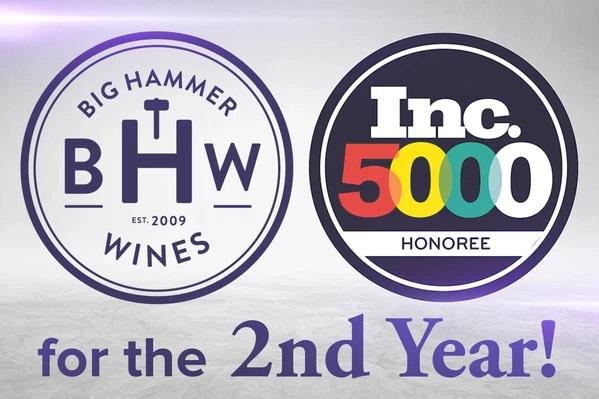 - September 10, 2019 /PressCable/ —
Big Hammer Wines, the most innovative online wine retailer in the U.S., was recognized again in 2019 by Inc. 5000, after being listed for the first time in 2018. Each year Inc. Magazine releases its Inc. 5000 list of top private companies, showcasing entrepreneurial success stories.
With a three-year growth rate of 252%, Big Hammer Wines has an impressive direct-to-consumer (DTC) sales model and an online wholesale wine import and distribution company. Big Hammer Wines ownership also owns a winery in Santa Barbara County, CA. This unique sales model shortens the distance between wine producers and the consumer, eliminating the middlemen that make wine more expensive.
Greg Martellotto, owner of Big Hammer Wines, says: "I am honored again to be recognized by Inc. 5000 and be part of such a dynamic and successful group of entrepreneurs. This honor encourages me to work harder every day to deliver more for my customers. At Big Hammer Wines, we will continue to disrupt the wine industry through ongoing innovation and service to meet our customers' needs."
Big Hammer Wines leverages technology to integrate and improve the entire wine distribution channel, resulting in a more efficient business and lower wine prices for retailers and consumers.
Founder and owner Greg Martellotto, an expert in all aspects of the wine trade, is an innovator and disruptor. He is adept at managing risk while generating both revenue and profits. He embodies all of the characteristics that Gallup defines as essential for successful entrepreneurs.
The annual Inc. 5000 event honoring all the companies recognized will be held from October 10 through 12, 2019 in Phoenix, Arizona. More details will be released shortly.
Congratulations to Big Hammer Wines for being recognized as a most inspiring company by Inc. Magazine for the second year in a row.
ABOUT Big Hammer Wines
Since its launch in 2009, Big Hammer Wines has been committed to sourcing wines of exceptional quality and value, at every price point, from around the world and the U.S. Big Hammer Wines has been recognized by Inc. Magazine as one of the fastest growing companies in the U.S. in 2018.
To learn more about Big Hammer Wines, visit the website: https://www.bighammerwines.com/ or email Mike@BigHammerWines.com.
Contact:
Greg Martellotto, Owner
Big Hammer Wines
(619) 567-9244
Greg@BigHammerWines.com
Release ID: 88913359