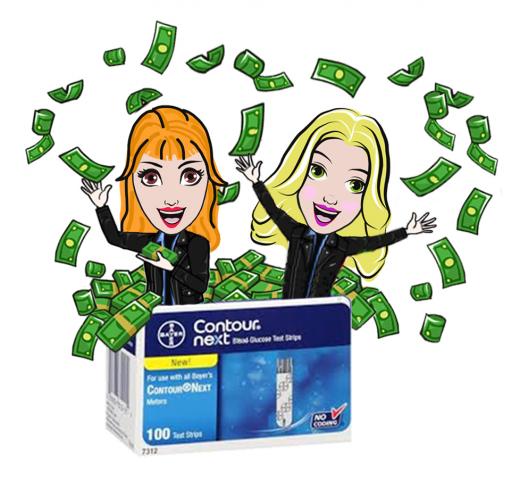 - February 15, 2021 /PressCable/ —
San Diego – In the stodgy and ho-hum diabetic supply buying industry, one company stands head-and-shoulders above the rest. Two Moms Buy Test Strips helps those with extra supplies sell test strips and diabetic supplies like Omnipod, Dexcom, and Humulin nationwide, but they are not like all the others.
"If we're going to do business, we might as well have some fun!" co-founder Kathleen notes. The Two Moms like to have fun and share that excitement with their sellers. In addition to offering them monthly bonuses, the Two Moms personally create their own fun artwork, images and humorous videos that they share in their regular emails and posts on social media. They often have giveaways, prizes and bonuses they offer their customers in exchange for a fun activity or challenge.
The tone of all their communication is upbeat, happy, filled with emoji's and fun, and is one of the reasons they have attracted a large following of sellers across the country. They are highly rated, with over 1000 positive reviews confirming that their exciting, positive and playful as well as professional approach to doing business in the diabetic supply arena is paying off and resonating with happy customers nationwide. "Amazing friendly ladies. Enjoy the business they run, always quick and on time and good on prices. Life savers with this COVID and it feels good to know my extra test strips are not going to waste" shares Emma, a regular customer.
Most of the Two Moms ads and social media posts feature caricatures of the Two Moms and portray them in a fun way, adding personality to a normally tedious business.
National Public Radio thought the Two Moms business personality was so unique that they selected them out of hundreds of test strip companies to feature on "All Things Considered". They noted the "Two Moms" tag line, being a woman-owned business as well as a service business made them stand out. In a business normally defined simply by pricing, they felt that The Two Moms brought a fresh perspective and playful attitude to the mix.
The Two Moms, Kathleen and Leslie, burst into the relatively dreary test strip world about 6 years ago. Their idea was to take customer service to a whole new personable level, all the while having some fun. These two ladies each had their own test strip businesses at the time, but realized that by joining forces they could achieve even more. Kathleen, an engineer for the Navy, and Leslie, a real estate investor, became not only business partners, but friends as well. Their mission is to help diabetics get extra money for their unused and new diabetic supplies and at the same time, allow those that don't have insurance and need diabetic supplies, a more affordable alternative in today's very expensive health care environment.
"As test strip buyers, our goal is to purchase as many diabetic test strips, Dexcom, Humulin and Omnipod as possible so we can get them into the hands of other diabetics in need of them at an affordable pricing" shares Two Moms Buy Test Strips co-founder Leslie. "What people might not understand is that someone else living with diabetes could benefit from these same diabetic test strips, someone who is not able to pay full retail pricing."
Why do diabetics sell diabetic test strips or diabetic supplies? There are a variety of reasons, some diabetics change their testing supply brand, get a new prescription, may no longer require testing their blood sugar by getting their diabetes under control or sometimes have extra supplies from a family, friend or loved one that no longer needs them. Often, they do not use their monthly allotment of supplies and use the extra money to help their family members, for holiday gifts or just to make ends meet.
In an industry of stale, boring advertising that lacks personality, Two Moms Buy Test Strips is a breath of fresh air and allows those that sell diabetic test strips and supplies not only to get extra cash for their diabetic supplies, but also have a little fun and enjoy the experience. The Two Moms promise to always keep things interesting in the diabetic supply industry.
About Two Moms Buy Test Strips
As the best buyer of test strips and diabetic supplies in the business, the Two Moms help diabetics turn their unwanted or extra diabetic supplies into cash. Started in 2015 after the two ladies were discussing how they could raise extra money and discovered they could sell their diabetic supplies for cash. Two Moms Buy Test Strips was born!
Originally under the name 'Sell Us Diabetic Test Strips', they rebranded themselves and thoroughly enjoy helping diabetics make extra money and get diabetic supplies to those that cannot afford to buy them at a reasonable cost. The Two Moms are happy and fun-loving moms and love to share that spirit with their customers.
For more information about Two Moms Buy Test Strips, visit their website 24/7, www.TwoMomsBuyTestStrips.com
Press Contact: Kathleen Cruse
Phone: (619) 797-6099
Email: hello@twomomsbuyteststrips.com
Release ID: 88997352