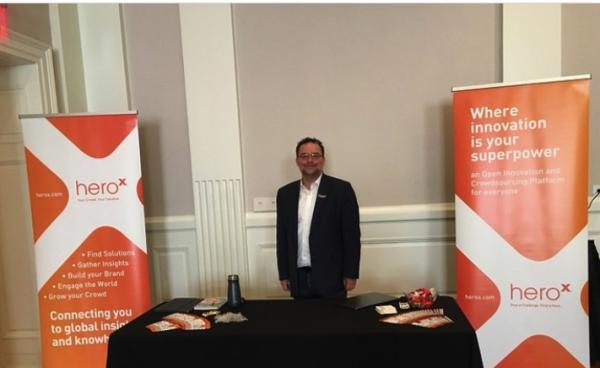 - January 31, 2019 /PressCable/ —
January has just flown by here at HeroX! With 2019 in full swing, the focus is on the goals and aspirations set out for the next 11 months. However, before we get too far into this year, we would like to spend some time celebrating our 2018 successes and achievements. HeroX's CEO, Christian Cotichini, stands still for a few minutes to reflect on the huge strides made in 2018 and what he has in sight for 2019.
2018 was a transformational year for HeroX, a year of pivots and repositioning. HeroX's platform introduced a number of new feature enhancements and added functionality making the platform user friendly and intuitive to help break down barriers to crowdsourcing.
2018 also saw HeroX partner with many incredible new clients such as General Electric, Lockheed Martin, Deutche Telecom, and Anheuser-Busch InBev. Let us not forget to mention the continued relationships with NASA Tournament Labs and MaRS Discovery District. HeroX also experienced significant growth in their crowd. Talent that stretched the globe bringing expertise in areas from A.I. programmers and data scientists, to designers, students, lawyers and everything in-between. Tapping into the crowd is a strategy proven successful time and time again. It continues to deliver results that surpass expectations with visionary thinking always pushing the boundaries.
The biggest lesson in 2018 was that it is impossible to underestimate the power of the crowd and the hunger for opportunity to innovate. For the crowd, crowdsourcing isn't work….it's a place where you can do what you love to do all day everyday. Work is no longer work, work feels like play. Living in a world where your unique abilities and passions allow you to dictate how you spend your valuable time. HeroX brings together the crowd to solve today's and tomorrow's challenges. We believe there is no problem too big or too small that the crowd can't, or won't, solve and our fourth quarter growth is a testament to this.
So what's in store for HeroX in 2019? We will continue to advocate the power of the crowd. We will continue to demonstrate that partnering with the crowd is the winning strategy. Regardless of what you are solving for, where you are located and what industry you're in, to powerfully grow and innovate, you need to incorporate crowdsourcing as a part of your strategy. We believe that the more we share the breakthrough innovations achieved through the power of crowdsourcing globally, the more we enrich the world and demonstrate with real challenges how instrumental the crowd is.
Mr. Cotichini is a true visionary. He sees the power behind the crowd and furthermore, he sees the power behind YOUR CROWD. HeroX continues to support their clients in building, growing, curating and leveraging their very own crowd. Positioned as the social network for crowdsourcing, HeroX is the only place you can keep your crowd with you on your own custom branded page.
Want to learn about the power of the crowd? Join us for an exclusive conversation and find out what companies like NASA have known for years.
Release ID: 477599