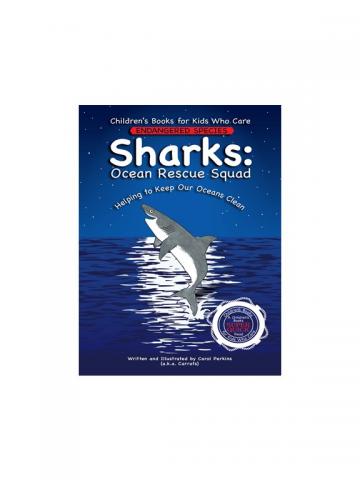 - January 24, 2022 /PressCable/ —
The recent announcement includes both the eBook and paperback editions of the book, available to buy via Amazon, and is offered alongside a complimentary children's colouring book.
More information can be found at https://www.childrensbooksforkidswhocare.ca
Developed to teach children a range of facts about sharks and their role in the ecosystem, the latest release falls into the category of 'edutainment', helping kids to learn through fun.
The Children's Books For Kids Who Care series explores the concept of endangered animals around the world, with 'Sharks: Ocean Rescue Squad' outlining the role of the misunderstood species in the pecking order of the ocean. Each of the books in the series works to teach children valuable information about topics that are not always thoroughly explored in schools or in the media, breaking down the facts into easy-to-digest pieces to help kids retain them long after they've put the book down.
Learn more at https://www.pinterest.ca/childrensbooksforkidswhocare
Carol 'Carrots' Perkins' series includes a selection of hand-drawn illustrations from the author, and the first in the collection already has a follow-up book planned. This second book will cover the topic of rhinos, exploring the five species known to man, their endangered status, and their role in keeping balance in the ecosystem of their habitats.
'Sharks: Ocean Rescue Squad' dives into the subject of sharks and their place in the ocean, discussing the importance of their position in the food chain, their ability to help make the sea a cleaner place, and the cruel and difficult circumstances that have led to their endangerment. Rather than detailing this wealth of information in an unwieldy textbook, Perkins has used her knowledge of children's learning techniques and created a book that uses terms and ideas that are fun to explore for kids, keeping the book to a good length to encourage engagement.
"Carol Perkins has had a passion for writing for years, and it clearly shows in this book," said one satisfied reader. "She has taken a topic that kids are passionate about and made it into an easy-to-read book that makes learning about sharks fun. Her writing connects to children at a level that is easy to understand and keeps them engaged right to the end."
Interested parties can learn more at https://www.amazon.com/Sharks-Ocean-Rescue-Endangered-Species-ebook/dp/B08PQ3T4PJ
Release ID: 89061279