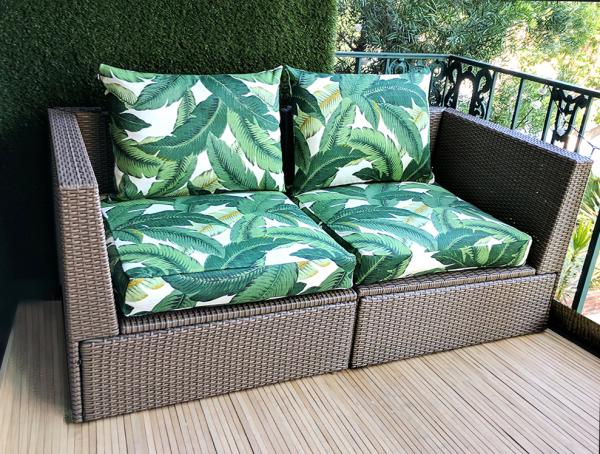 - June 24, 2020 /PressCable/ —
Rockin Cushions has transformed the DIY Home Decor world since it announced the launch of IKEA Outdoor Slipcovers back in 2015. Rockin Cushions slipcovers promised to shake things up and 5 later, facts are in.
Previously, with even a passing glance, a person would notice their competitors largely offer replacement covers, the same as IKEA. The Owner at Rockin Cushions, Michelle Van Der Water, makes a point of saying "things were always going to change when we launched IKEA Outdoor Slipcovers".
Michelle Van Der Water continues… "Where you'll likely always see our competitors doing the same old thing, we wanted to provide replacement covers that are unique to your home decor style. We do this because we believe your home is a place that should reflect your personal style, not filled with generic furniture out of a catalogue. It should be able to change with the seasons easily and affordably. Ultimately we knew it was going to be of huge benefit to our customers because with our slipcovers, our customers will see their IKEA furniture as a long term investment. They will save time and money because rather than replace their furniture when it gets old, they can upgrade it with a new cover and give it a new lease on life. We hope others follow suit."
Rockin Cushions was established in 2015. It has been doing business 5 and it has always aimed to innovate in any large or small way it can, due to the firm belief that innovation drives progress and greater happiness.
Currently, the most popular slipcovers that Rockin Cushions offer for IKEA outdoor cushioins are Sunbrella fabrics in solid colors. These covers are the ultimate protection for the elements. They are stain resistant, quick dry and maintain bright vibrant color even in direct sunlight. Many customers use Sunbrella covers over their original IKEA cushions for extra protection. Rockin Cushions also improved on their range by offering affordable home decor designs to reflect current trends. This alone was enough to make these slipcovers more popular with customers in the DIY Home Decor space, quickly.
IKEA Outdoor Slipcovers is now available to buy and review at the Rockin Cushions website. To find out more, the place to visit is https://rockincushions.com/collections/ikea-outdoor-slipcovers
For further information about Rockin Cushions, this can be discovered at http://www.rockincushions.com
Release ID: 88965177