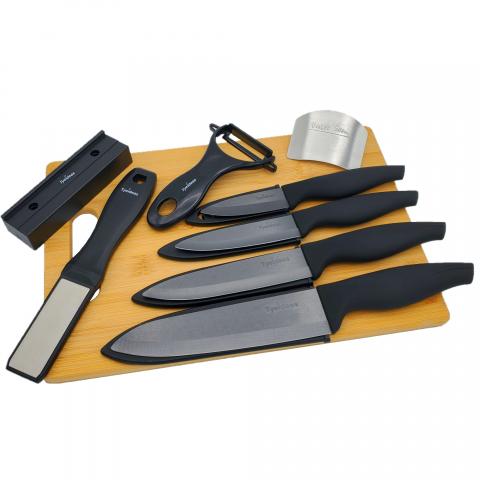 - April 6, 2020 /PressCable/ —
Tyeideas, LLC has announced a new upgrade to their popular Kitchen Product, Ceramic Knife Set Kitchen Knives.
Their Ceramic Knife Set has multiple new features designed to make life easier for cooks, chefs, foodies, meal preppers, culinarians, & sous chef, including:
Thicker Stronger Blades – Based on our customer feedback, Tyeideas has improved its ceramic knives by increasing the width of the blade thickness for a stronger knife.
Finger Guard – We have added a finger guard for additional safety during use. Ceramic knives are sharp and we want to help you protect your fingers and hands.
Ceramic Knife Sharpener – We have included a ceramic knife sharpener to increase the life of your blades. Every knife gets dull with repeated use and ceramic blades are no different. With our blade sharpener designed specifically for ceramic blades, you will enjoy your knives for years to come.
Bamboo Cutting Board – Lastly, we have included a bamboo cutting board for the perfect complementary set to last a lifetime. Made from an environmentally conscious renewable resource that's beautiful and gentle on your knives. Since bamboo is less porous than hardwood it's a sanitary partner in your healthy cooking.
A full list of features to our Ceramic Knife Set Kitchen Knives can be found on Amazon.com.
The changes to our Kitchen Culinary Product ceramic knives set were bought about due to quality improvements requested in our customer feedback. As part of an ongoing effort to improve the user experience for our products, customers can expect regular updates both now and in the future.
One of our delighted customers Joseph, who shared his experience, had this to say:
"My wife and I ordered a set of these to supplement our kitchen, and I am loving them! They are all extremely sharp, have a great non-slip grip, easy to handle and cut with, and although they have the sharpener included, we haven't had the need to use that part of the kit yet. From paring apples to slicing tomatoes, they're awesome, and my wife loves the finger guard!"
Current customers interested in learning more about the upgrade can do so directly on the website at Tyeideas.com/Amazon-best-ceramic-knives New customers can also use the site to purchase the latest version of our classic Black Ceramic Knife Set.
Release ID: 88952377