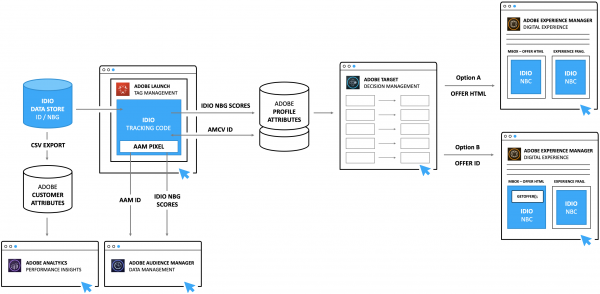 - March 25, 2019 /PressCable/ —
NEW YORK, N.Y. – March 25, 2019 – Idio.ai, a leading provider of first party intent data for B2B enterprises, has announced it is joining the Adobe Exchange Partner Program. Joining the program formalizes Idio's integrations with Adobe Target, Adobe Experience Manager and Adobe Analytics – allowing global business-to-business (B2B) enterprises to uncover the interests of each individual prospect and use that data to automatically deliver individually personalized content experiences.
"Idio is really excited to formally join the Adobe Experience Cloud partner ecosystem. Many of our clients are using Adobe solutions to deliver their digital experiences, and the integration with Idio brings to bear an enterprise-grade artificial intelligence (AI) platform to automate the process of classifying content, building first party intent data and personalizing one-to-one content recommendations. This enables significantly greater marketing impact, without complex manual segmentation and data management effort," said Edward Barrow, CEO of Idio.
Every B2B enterprise suffers a complexity challenge. There are many product or service propositions, multiple target industries, multiple buyer personas, and most significantly, thousands of pieces of digital content in the marketing and sales environment. Making sense of this complexity to deliver a relevant experience is difficult for even the most sophisticated of marketing functions. And yet, in a modern B2B purchase process, digital content is fundamental to how leading enterprises attract, engage, convert and understand their customers. Idio's AI engine uses natural language processing to automatically structure content archives using millions of known topics across multiple languages, making it immediately useful for buyer-centric marketing. Idio then builds first party intent data at an individual profile level, and executes next-best-content predictions which can be utilized within Adobe Target.
Deepak Mehta, the Head of Global Digital Analytics at leading data storage provider Pure Storage, said "like other B2B organizations, we were spending considerable time wrangling the content engine: tagging content, organizing campaigns and setting up manual rules took a huge amount of time. Idio has streamlined the process, and the integrations into Adobe Marketing Cloud mean our core marketing stack benefits from the intelligent automation that Idio provides. It's driven increased customer engagement as a result."
The integrated solution includes:
1) Idio's first party intent data integrated into Adobe Target at the individual level, allowing one-to-one targeting of experiences based on individual's topic-level interests and purchase intent;
2) Idio's Next-Best-Content integrated into Adobe Target and Adobe Experience Manager, allowing one-to-one content recommendations powered by Adobe Target that are fully adaptive, real-time, and automated without any manual tagging or journey mapping;
3) Idio's first party intent data integrated into Adobe Analytics, allowing granular reporting on the interests and purchase intent of individuals and aggregated audience segments.
About Idio
Idio makes 1:1 marketing possible for global B2B enterprises. Idio's platform uses Content Intelligence to predict the interests of every individual and automatically deliver relevant 1:1 experiences across digital channels. Global leaders including Intel, Fitch Ratings, and AllianceBernstein trust Idio's AI to maximize buyer engagement and pipeline, whilst handling marketing complexity. Idio is based in London and New York, backed by leading SaaS investors including Notion Capital, Juno Capital, and Foresight Group, and in 2017 was named by Forrester Research as a Breakout Vendor for Content Intelligence. For more information please see http://www.idio.ai
About Adobe Experience Cloud
Adobe offers the industry's only end-to-end solution for content creation, marketing, advertising, analytics and commerce. Unlike legacy enterprise platforms with static, siloed customer profiles, Adobe Experience Cloud helps companies deliver consistent, continuous and compelling experiences across customer touch points and channels – all while accelerating business growth.
Adobe Experience Cloud manages more than 233 trillion data transactions annually and $141 billion in online sales transactions annually. Industry analysts have named Adobe a clear leader in over 20 major reports focused on experience – more than any other technology company.
Release ID: 494945