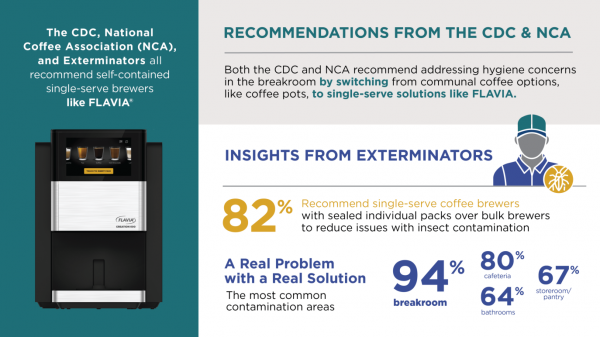 - January 29, 2021 /PressCable/ —
CoffeeASAP has recently launched an update to their range of Flavia single-serve brewers and drinks. The recent update seeks to maintain hygiene by having little to no contact with the drink machine. Flavia brewers, drink products, and accessories seek to provide people with the brands they want like Starbucks, Dove, and Lavazza.
For more information visit https://www.CoffeeASAP.com.
The Flavia brand features five brewing machines. These are Creation 150, Creation 200, Creation 500, Creation 600, and Barista Brewer. Each machine is designed to minimize user contact. They utilize a system and patented Freshpack technology that brews the drinks straight from the pack to the users' cup and assures no taste, allergen, or contaminant transfer between brews.
The newly launched Creation 600 brewer comes as a result of the global need for better hygiene practices. People have been concerned about doorknobs, gas pump handles, and other high contact areas due to the current pandemic. Flavia single-brew products seek to provide people with a safe solution to exposure while allowing them to enjoy their favorite beverages. The Creation 600 (or C600) is also the only brewer that serves both hot and cold drinks from one station.
The C600 model features an Antimicrobial Surface Protector for its brewer door and touch screen panel. It aims to keep users safe even when they need to touch the units. In addition to the surface protector, the C600 brewer also provides greater safety with its free user mobile app. It allows users to operate the brewer using their mobile phones, never having to touch the screen. The app works with the technology in the brewer to keep track of most and least consumed drinks and also lets you know when and what to reorder.
Apart from the machines, the coffees, teas, and hot chocolates that Flavia provides also aims to promote safety through proper hygiene. Their manufacturing staff is prohibited from touching any of the ingredients used to make their drink packs. Additionally, the packets they use are secluded from oxygen and the open air. CoffeeASAP aims to keep its products as safe for consumption as possible.
Another way in which the company seeks to promote proper hygiene is through the maintenance and cleaning requirements. The company seeks to limit the units' exposure to human touch and the open air.
Interested parties can click on the link above for more details.
Release ID: 88995387