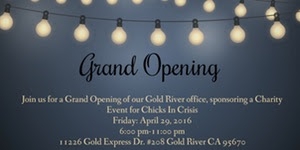 - April 26, 2016 /PressCable/ —
For immediate release:
Hybrid Brokers Realty (HBR) celebrates the Grand Opening of their 2nd office located in Gold River by their continued commitment to charitable giving through their "Give where you live," campaign. The commemorative event is scheduled for Friday, April 29, 2016 at 6 PM at 11226 Gold Express Drive #208, Gold River, CA 95670.
Here at Hybrid Brokers Realty the entire group believes in giving back so incorporated into the business model is an opportunity to contribute a portion of the profits to small local charities on a quarterly basis. The vision which enables the entire team to continuously give back to the local communities because the donations should benefit the place that the company lives, works, and plays!
Hybrid Brokers Realty's goal is to, through the help of the agents and the clients, "Give Where You Live." As the realty group grows and expands donations will also grow and expand. The idea of handing a check with 5-6 zeros is hardly beyond reach. HBR is a local brokerage, owned and operated locally,
As a part of HBR's culture this quarter's beneficiary is "Chicks in Crisis" . Chicks in Crisis is widely known throughout the Greater Sacramento area as the organization to contact for pregnant teens and young women in crisis. The organization works closely with CPS, hospitals, and foster care social workers to meet needs. As a partner with Sacramento 2-1-1, Chicks in Crisis has the most distributed number to callers looking for baby supplies in the area. The group attends health fairs and can be seen at many local events educating the community on its services.Donations will be accepted at the door to support Chicks in Crisis. Donations needed are diapers, pull-ups, baby wipes, formula, baby clothes, maternity clothes, crockpots, and gift cards up to $25.
Hybrid Brokers Realty is home to Sacramento's premier real estate professionals. The real estate group understands the direction real estate is leading the team, on both the consumer side, as well as the seller side. The team understands what it takes to be a success in the industry today. Everyone lives in a new millennium, unlike any other in the past, where information must be available with as little as a push of a button. This means two things: sellers are finding buyers faster and buyers are finding a dream home just as fast. With this in mind, every moment matters for both buyers and sellers. HBR offers state of the art solutions to surpass any challenge clients may have. Not only is the marketing platform unmatched by any other, but Hybrid Brokers Realty have exclusive internal resources not traditionally offered by any other brokerage, such as:
Residential and Commercial Resale
Development
Off-Market Inventory
Hard Money and Creative Financing
In-House Conventional Lender
and much more…
Hybrid Brokers Realty maintains its solid commitment to the local community by giving back part of profits each quarter.
Release ID: 112251