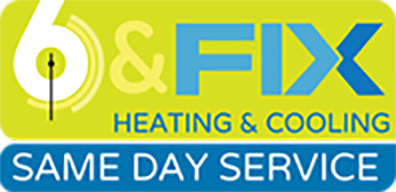 - April 28, 2021 /PressCable/ —
HVAC company 6 & Fix Heating and Cooling of Raleigh, NC has published an article detailing how properly sealed duct work on HVAC systems is one of the keys in maintaining system efficiency and safety. Over time unsealed ducts will leak, allowing air to escape into crawl spaces or attics, resulting in higher energy costs.
To learn more, read the entire 6 & Fix Heating and Cooling article at: https://6andfix.com/4-benefits-of-duct-sealing
If the temperature never seems stable in the home. For example, if it is warm and humid in the summer and drafty and cool in the winter, unsealed or improperly sealed ducts may be the problem. Duct systems will eventually develop holes, cracks, and leaks, which allows hot and cold air escape.
According to Energy Star, "Leaky ducts can reduce heating and cooling system efficiency by as much as 20 percent. Sealing and insulating ducts increases efficiency, lowers your energy bills, and can often pay for itself in energy savings. Plus, if you're planning to install new heating and cooling equipment, a well-designed and sealed duct system may allow you to downsize to a smaller, less costly heating and cooling system that will provide better dehumidification."
Duct sealing can also improve your air quality. Allergens, pollutants, and dust are easily able to enter the home through cracks and leaks in duct work and pollute indoor air. However, once ducts are sealed, there will be significant improvement in air quality. This is especially helpful for those with asthma and certain allergies.
Properly sealed ducts not only help with efficiency and lifespan of HVAC units, they also help to keep homes safe. Leaking ducts can allow combustion gases such as carbon monoxide from gas appliances such as water heaters, dryers, and furnaces back into the home. This is called back-drafting and can cause the harmful gasses to be drawn into your home instead of being released outside.
For more information on how the 6 & Fix Heating & Cooling team can help, call 919-736-6661 or click the link above.
Release ID: 89007469