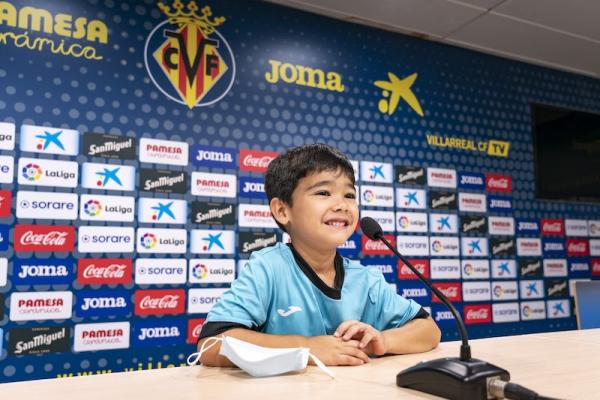 - February 16, 2022 /PressCable/ —
The organization, which was founded eight years ago, has announced it is now an official partner of Soccer Academy for Villarreal CF in Spain.
More information can be found at
https://jcsportshouston.com
JC Sports Houston, known for both its toddler and youth soccer development programs, has now teamed up with a prominent European club that just won the Europa Cup and is presently competing in the Champions League.
The founders of JC Sports, Jennifer and Cesar Coronel, have been named Villarreal CF Academy Directors in Houston, and are working closely with the Spanish club to uncover and develop local talent in Texas.
The youth sports market is worth over $20 billion and is growing rapidly – one research outfit estimates this number will balloon to almost $80 billion within the next four years. Soccer – or football, as it is referred to globally – is the most popular sport in the world outside of the United States. For years, youth soccer participation has been increasing in the United States, where there are roughly 3 million youth soccer players, according to recent data.
JC Sports has capitalized on the chance to partner with one of the best clubs in the world in order to give its kids more learning experiences and opportunities. Youth soccer ties to the premier European clubs are uncommon and provide a rare glimpse into the world of professional soccer tutelage and development.
The organization recently traveled to Spain and took eight local players to visit the facilities, meet the squad and trainers, and play soccer – a fully immersive experience with the Villarreal Academy. The dedication of JC Sports to youth soccer development and player scouting in Humble parallels the Villarreal CF club's ethos in Spain.
JC Sports' academy is the next step for children who are serious about improving their soccer skills and making the move from recreational to competitive soccer. Their training emphasizes core values such as respect, integrity, and personal responsibility. While their mission is to develop well-rounded players, JC Sports knows that having fun is the most essential ingredient: fun increases engagement and nurtures a long-term interest in fitness and sports.
One client commented: "My boys, aged 7 and 10, started training in the Soccer Lab at JC Sports this summer. It has been a wonderful experience for them. They have all of the latest technology available to help the boys develop their skills. The coaches are very knowledgeable and also great with kids. They are not only invested in their skill development but also the overall experience while in training. Highly recommend this place."
Additional information can be found at
https://www.villarrealhouston.com
Release ID: 89064543