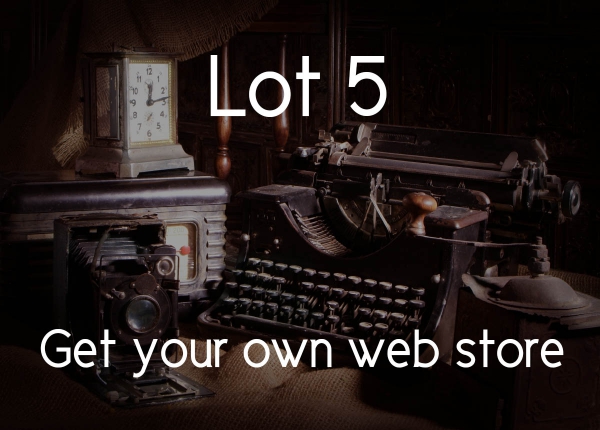 - June 22, 2017 /MarketersMedia/ —
Hull, England-based, "It's Your Lot", an antique, art and collectables group has launched sales hub memberships that include a website and mobile app. These features increase the exposure for a dealer when using the "It's Your Lot" site, and improve communication between the dealer and client. At affordable prices, Lot 5 and Lot 6 memberships offer an excellent return on investment.
More information is available at https://itsyourlot.co.uk/about.html.
Recently launched, the Lot 5 and Lot 6 memberships on "It's Your Lot" are customisable to suit any business, giving the dealer freedom to work. Both packages are competitively priced and don't attract commissions, with easy operation.
Lot 5 includes all the features of Lot 1, Lot 2, Lot 3 and Lot 4 memberships, plus, a custom-built website that's easy to edit and comes with online support. Those who select this membership package can add their own website link, details and dealer profile page. Plus, they can upload images and list adverts on the It's Your Lot Classified Ads section.
An upgrade from the Lot 5 membership, the Lot 6 membership is the premium package and includes all the other Lot features and a mobile app. This customisable mobile app includes hosting, with unlimited push notifications. Features of the app include RSS feeds, links, real-time chat and radio, plus a catalogue, booking feature and commerce store. Dealers can also create loyalty cards, contests and a scratch card to increase client use of their site and app.
As an online directory to buy and sell antiques, artwork and curiosities, It's Your Lot appeals to antique dealers and individuals looking for a diverse selection of goods. Also, the "It's Your Lot" website is search engine optimized and provides small and large business with an excellent way to increase their revenue.
When asked about Lot 5 and Lot 6 memberships, a spokesperson for "It's Your Lot" said, "We offer sizable discounts on our memberships from time to time. For instance, Lot 6 enables dealers to pay less than half the price of the original membership. This limited-time offer makes this membership package the most attractive as it includes all of the other Lot membership features, but it's only slightly more expensive than Lot 5."
To find out more about It's Your Lot call, 01482 341 069 or visit https://itsyourlot.co.uk/my-lot/catalog/lot_5-item-43.html or https://itsyourlot.co.uk/my-lot/catalog/lot_6-item-289.html to create a membership.
Release ID: 210498