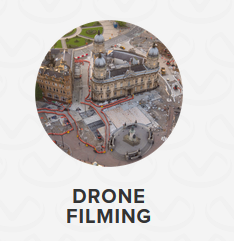 - November 11, 2020 /NewsNetwork/ —
Octovision Media Limited, a drone data collection and timelapse company operating from a base in central England, Hull, carrying out work national and internationally, has today been recognized as being a front runner in the realm of drone and timelapse technology. This news coincides nicely with Octovision Media Limited's recent recognition as a community favourite, due to the business helping the Arts Award Centre with a range of unique qualifications, that supports anyone aged up to 25, to grow as artists and arts leaders. Inspiring them to connect with and take part in the wider arts world, by taking challenges in an art form, from fashion to digital art, pottery to poetry.
Octovision Media Limited has been operating in the market for construction progress and visual reporting. The company has been in business for 6 years and competes against notable businesses such as Site-Eye and Timelapesuk. They have been able to make such a strong impression on the market and gain a great reputation because the business has been a leader in adapting to drone technology and utilising new techniques to find data. The business is always looking for the next new technique to improve data acquisition.
Christopher Fenton, Octovision Media Limited's Director spoke about its recent recognition, expanding on some of the decisions and motivations that led the business to the level it's currently reached.
"When Octovision Media Limited was founded, it was made abundantly clear we wanted to be the kind of company that wanted to be known in the market for quality and delivery of service. One of the biggest challenges we faced was with a loss of 50% of the events side of the business due to the pandemic. We pivoted to push on in construction drone and timelapse technology. We have some good people behind us and know the final product has to be perfect. We are not happy until this is achieved. We are at a very high level of satisfying customers and we do this by listening to their needs and focusing on what is required. We have been able to overcome every obstacle and really hit our stride."
Christopher Fenton also mentioned Octovision Media Limited's future plans include investing in R&D to develop new techniques and systems to collect data. Christopher also said they also hope to launch into Drone Swarms.
"In addition we will use our skills and certification knowledge. We have the following achievements. Constructionline Gold member, CSCS Accreditation, PFCO operator. We have in addition started an ISO9001 accreditation".
The company hopes that there is a very positive outlook on the future as construction still booms during these hard times. .
Octovision Media Limited plans to maintain its position at the forefront of drone and timelapse technology for years to come, building on its success, finding new ways to serve its community, customers and the world at large.
More information on Octovision Media Limited can be found at their website: https://www.octovisionmedia.co.uk
Release ID: 88985168