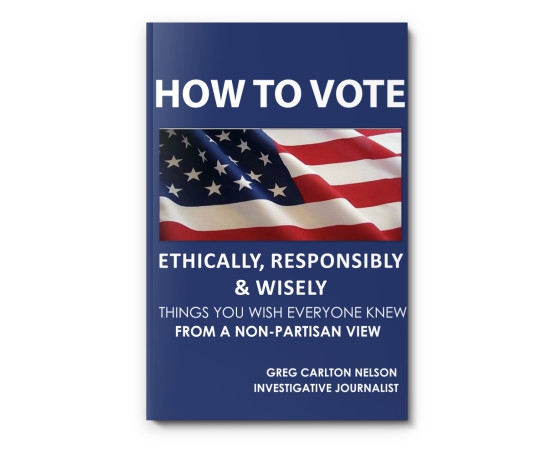 - October 26, 2016 /PressCable/ —
Investigative Journalist, Greg Clayton Nelson, is launching his brand new book, "How to Vote – Ethically, Responsibly & Wisely". The book is set to go live October 25th, available on Amazon Kindle; downloadable on computers and smartphones and is expected to become a hit with citizens who do not want to lose more of America's rights and freedoms.
This is the first edition Nelson has authored on the subject. The book was written with the aim in mind to simply and briefly educate citizens on what it means to vote ethically, responsibly and wisely. And on what is the cost of freedom? There's also particular excitement about this launch because the book exposes why this country is at a real make/break point due to a number of unbelievable factors and why each voter is so important.
How to Vote – Ethically, Responsibly & Wisely sets its main focus on a dedication to forwarding the legacy of rights and freedoms from the Founding Fathers and other great leaders. Readers will likely find a particular interest in "What is the biggest mistake voters can make? What is the biggest mistake our country can make?" The book's cover art was created by Joaquim Jones and How to Vote – Ethically, Responsibly & Wisely is being released by Candor Publishing.
Greg Clayton Nelson is a retired business and ethics consultant; is one of the top experts on ethics; having delivered hundreds of seminars. This helped shaped the creation of the book. The author's extensive experience in the little understood subject of ethics and how it affects everyone's survival led to applying it to helping save America's freedoms.
When asked about why he wrote the book, Nelson said: "To help citizens be part of the solutions to the problems America faces."
Nelson has hopes that the book will help citizens who are sitting on the fence or are confused or do not believe it is worth voting. This positive outlook from the author is certainly a testament to his optimism considering some of the mishaps during its creation. At one point the book almost did not get finished due to a strange unknown illness that had to fought through.
In a recent interview, the author made a point of thanking those who fought and died for this country's rights and freedoms, saying: "Endless thanks is given to the Founding Fathers and other great leaders who shared wisdom on what has made this the greatest free country in history."
There is an appropriately added bonus article: "5 Ways to Handle Stress during a Nightmarish Election Period."
Release ID: 140775