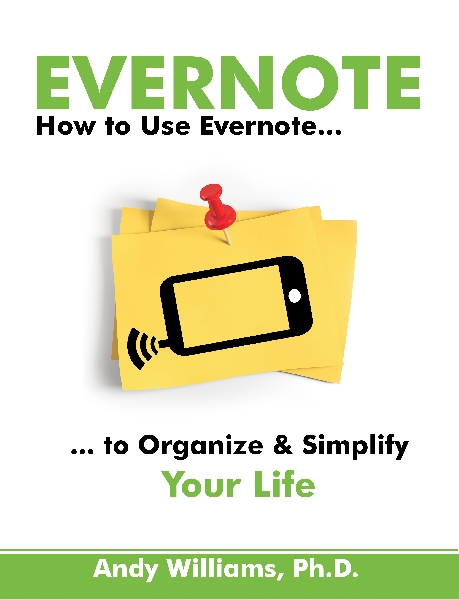 - November 8, 2014 /PressCable/ —
The book "Evernote – How to Use Evernote to Organize and Simplify your Life" was released last month on Amazon in Kindle format.  This week saw the release of the paperback version, but not before a total redesign of the cover.
"Evernote is a cross-platform tool that runs on Android, iOS, PC and Mac operating systems to help keep notes, shopping lists, todo lists, names, numbers, phone numbers, flight details, medical records, appointments, reminders, family events or kids achievements.  Evernote is flexible enough to store just about any type of information or digital media.  Evernote synchronises between all of these operating systems meaning notes created by a user on one device, are instantly available on all digital devices of that user."
"How to Use Evernote to Organize and Simplify your Life" was written by Andy Williams after making the switch from paper sticky notes and scraps of paper to Evernote.   
Using Evernote on multiple operating systems, the author noticed discrepancies in the way each version worked.  Andy Williams set out to write a single book that could help people learn to use Evernote on any of the major platforms.  The book covers Evernote for PC, Evernote for Mac, Evernote for Android and Evernote for iOS.
The author was quick to release the paperback version of the book following the success of the Kindle format, but decided to change the cover design before the release. 
When asked about this, he had this to say:
"After the release of the Kindle version, a number of readers requested a paperback version.  While the Kindle is an excellent device for reading stories or text based books, How to Use Evernote is more of a reference How-To with over 360 screenshots making the paperback format a far more obvious choice for many. The original Kindle version cover had came in for some criticism, so the decision was made to kill two birds with one stone, and redesign the cover for the paperback release."
The paperback version sporting a new cover was released in the first week of November.  Evernote - How to Use Evernote to Organize and Simplify your Life is available at Amazon on Kindle and as a paperback.
Release ID: 67497