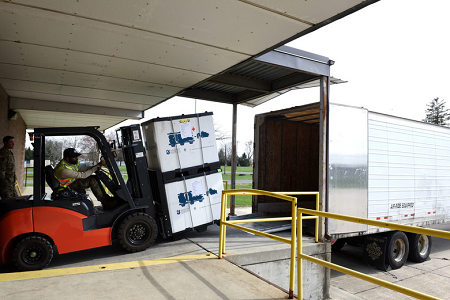 - July 29, 2020 /NewsNetwork/ —
Some small business owners believe that expensive fees and mark-up for inbound freight from suppliers is a cost they must accept. Unishippers franchise owner, J.P. Budd explains how this is not true, and offers some solutions.
Information about all Unishippers' services including review and evaluation of inbound shipping operations and costs can be found on the company's website: https://www.unishippers.com/buddlogistics/ .
J.P. Budd has significant experience providing freight shipping assistance to small and mid-sized businesses. He's very familiar with all aspects of LTL and FTL operations and costs for his customers. And he's been successfully navigating the freight shipping landscape from his Ventura, CA based Third Party Logistics (3PL) company for more than 8 years.
"You don't have to accept shipping rates negotiated by your suppliers," claims Mr. Budd, "These costs add up. They directly hit your bottom line, cutting into profits. But there are alternatives that are often overlooked by business owners who have neither the time nor access to the tools to significantly reduce this cost."
In addition to high costs and marked-up freight fees, other inbound shipping issues are common, according to this veteran of the freight logistics industry. Limited visibility into freight arrival times, and an excessive volume of deliveries arriving simultaneously, can cause significant confusion on the company loading dock.
Managing shipping arrival times can be critical for a busy small business operation. Otherwise, the company can get backed up in receiving, and staff become overwhelmed. The result can turn out to be expensive crates of spoiled perishables, misplaced or stolen products, or any other of a variety of issues that arise when inbound freight is not properly received and handled. Often such a situation delivers a direct hit to the company's profit margin and bottom line.
The good news for small businesses who rely on freight deliveries from suppliers is that Unishippers offers reliable guidance for how to best manage this critical part of their operation and the associated costs. J.P. Budd explains, "Unishippers has many years of experience providing inbound shipping solutions in all industries. We'll do a complete review of your current process and costs, and help you determine the best available options."
Unishippers advocates for small businesses taking full control of their inbound freight delivery planning, management and costs – and not relying only on shipping rates or delivery conditions negotiated by their suppliers.
"Our business customers are granted access to a simple but powerful 'TMS'," says Budd, referencing Unishippers' industry-leading transportation management system. This proprietary software ensures visibility into shipping rates and fees so businesses can compare them across a wide spectrum of carriers in all areas of the country, any day of the year.
According to Mr. Budd, "The TMS empowers companies to manage all their own shipping needs efficiently, with the best logistics data available, completely in-house from their office or loading dock."
Unishippers also leverages the combined buying power generated by the massive annual shipping volume of it's 150+ franchises and corporate-owned offices to negotiate much better rates with carriers than a typical small business can get on it's own. These savings are passed directly to their local business shipping customers.
Many other variables including the freight class, packaging, and shipping frequency factor into the cost and complexity of inbound freight operations. However, with an experienced advisor and service provider handling it, small business owners across the US are finding that a trusted 3PL like Unishippers is invaluable to all aspects of their shipping operations.
Interested parties can review Unishippers services and speak with an experienced logistics consultant by visiting the company's website: https://www.unishippers.com/buddlogistics/ .
Release ID: 88970455