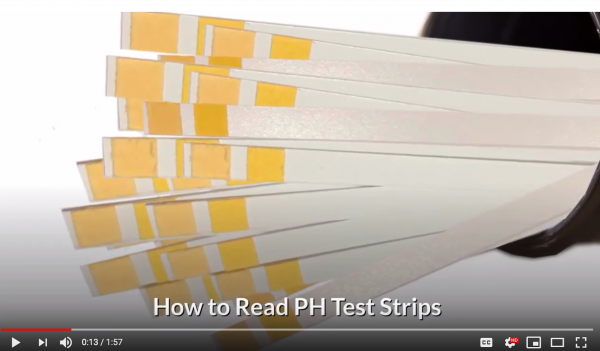 - March 15, 2019 /PressCable/ —
Popular manufacturer of health and fitness products, Just Fitter has just announced the formal release of their new FAQ video guide. This short video explains the importance of testing the body pH and how to read pH urine testing strips. Amongst all the products from Just Fitter, their pH testing strips have been particularly successful in Amazon.com. The new video has been created for the users of this product as well as other individuals looking to keep a track of their body pH on a regular basis.
Click here to watch the new FAQ video from Just Fitter on YouTube.
Advanced medical research has now established the fact that an acidic body is susceptible to numerous serious health conditions. On the other hand, it is also known now that diseases find it difficult to survive in an alkaline body. Therefore, maintaining a slightly alkaline body pH can save the human body from several diseases. This is why thousands of men and women around the world are now interested in achieving an alkaline pH. However, in order to do this, they need to monitor their body pH on a regular basis and this can be accomplished easily with the help of pH testing strips.
The FAQ video from Just Fitter mentions that pH test strips are extremely popular these days because they are accurate, simple to use, and easily affordable. Both urine and saliva can be tested using these strips and the entire testing process requires just a few seconds. Instead of taking pH test readings in isolation, the video recommends testing the pH at different times of the day. Recording the readings over an extended period of time will provide a larger picture of the progress.
Get Your Free pH Monitoring PDF Guide Here.
"For testing saliva, put some saliva on a spoon and then test the pH by dipping the strip into it. Make sure both pads on the test strip are sufficiently covered in liquid, remove, and then wait about 15 seconds," the video states. "For testing Urine, place the pH test strip in the urine stream (mid-stream), or dip strip into a container used to collect urine."
Testing with both urine and saliva requires that both pads on the test strip are sufficiently soaked in the liquid. The test results are obtained after shaking off the excess fluid and waiting for approximately fifteen seconds. The exact body pH can be ascertained by comparing color of the strip against an indicator chart provided with the product.
The pH testing strips from Just Fitter has been recommended by numerous Amazon shoppers. Right now, the product is one of the most successful products in the category of urinalysis strips. Available for $8.95 only, each pack of this product contains one hundred and twenty five testing strips. Just Fitter also offers a 100% money back satisfaction guarantee to all Amazon buyers.
Click here to watch the new FAQ video from Just Fitter on YouTube.
About Just Fitter: Founded in 2014, Just Fitter is dedicated to helping people achieve their best physical, mental, and spiritual health by encouraging them to embrace the benefits of a Keto diet lifestyle. Partnering with some of the best doctors, chemists, and nutrition scientists, the company has already helped thousands of people improve their lives in many ways including going Keto. Just Fitter also runs a popular Facebook page called createtheperfectyou, dedicated to helping people adopt the Keto lifestyle.
Release ID: 492627