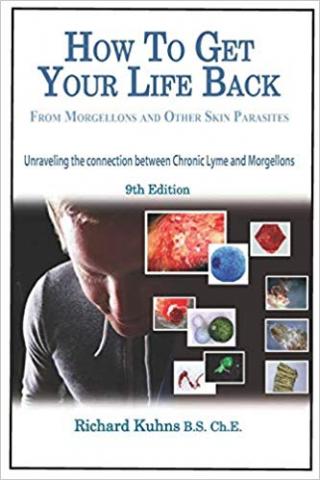 - February 27, 2020 /PressCable/ —
Best Selling Author Richard Kuhns B.S.Ch.E, has announced a totally revised and brand new updated 2020 version of his groundbreaking book, "How To Get Your Life Back From Morgellons, Chronic Lyme, And Other Parasites."
The new version of book, released in February of 2020, is now in its 9th revision since 2012 and continues to be one of the most detailed books on the subject. The book has pulled together all the latest information regarding treating and living with Morgellons disease as well as helping sufferers understand the complexities of the disease.
Richard, who himself has suffered from the disease along with Chronic Lyme, Collembola, mites, Strongyloides, Candida, and skin fungus, has become one of the world's leading authorities on the disease and is constantly fighting to get Morgellons recognized by the medical community.
Asked what we can expect in the new revision, Richard states, "Morgellons, by itself, would be relatively easy to get rid of. In the new revision, we've identified the different co-infections and co-factors that complicate the disease. For instance, research indicates that 90% of Morgellons sufferers have Lyme disease. Then there's internal parasites, skin fungus, mites, Collembola (springtail) infestations, Strongyloides, Candida, and other internal fungal issues, as well as EMF sensitivities that complicate. Since the 8th edition, I've learned how to deal effectively with each complication which is revealed the 9th edition."
Having contracted skin parasites in the mid 1990's which caused him 24/7 itching, rashes and biting sensations, Richard has worked tirelessly to get the word out about Morgellons with little help from the medical community.
His book provides detailed dietary instructions, disinfection methods, products such as Nature's Gift soaps, lotions, gels, and creams to deep clean your skin of organisms, and specific supplements to build immune functioning to get your life back to normal.
Richard's book is living proof that his vast knowledge of treatment options has helped so many people deal with this strange and painful disease as he has had sufferers from all over the world request his help in dealing with Morgellons when most doctors would not even recognize Morgellons as a real disease.
The 2020 revised edition can be purchased on Amazon at the following address:
https://www.amazon.com/Your-Morgellons-Other-Parasites-Limited/dp/1475010524
Or at his website at: http://bestmorgellonscure.com
For further information about the book and to interview Richard, he can be reached at:
Phone: 732-532-1178 or 1-800-993-0929
Email: albert@getyourlifebackllc.com or knick2@verizon.net
Release ID: 88948100