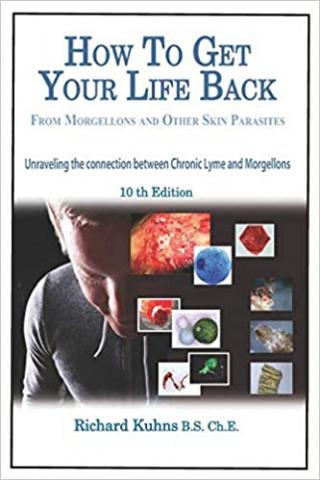 - November 23, 2020 /PressCable/ —
Bestselling author Richard Kuhns has announced the release of the 10th edition of his breakthrough book entitled, "How To Get Your Life Back From Morgellons And Other Skin Parasites." This edition unleashes new treatment options, the most up-to-date information available in the medical community, and a host of new cures being developed to combat the dreaded disease.
The first edition of the book was released way back in 2012 and treatments have come a long way since then. Richard states, "Every year I find more and more relevant information on how to get one's life back, making this the tenth revision to the book in less than ten years."
Richard, a chemical engineer and a former sufferer of skin parasites, has become a noted expert in the field of Morgellons and other skin parasites such as Collembola, Strongyloides stercoralis, mites, and skin fungus. In the mid 90's, he was infected by a cloud of dust as he pulled a vine from a tree in his backyard. Within four days, the itching and biting sensations were relentless and the countless doctors he consulted were of no help.
Through trial and error, he discovered a dietary connection between the symptoms and what he ate. He called it the King Diet which was instrumental in him getting his life back from Collembola and Strongyloides. Since that time the diet has been fine tuned to work for Morgellons sufferers, of which he has helped hundreds over the last twenty or so years to get their lives back.
Here are just a few of the hundreds of people who have gotten their life back from the life-altering effects of this disease.
"This book was a life saver for my son, who was unable to finish his last year of college because this disease had overtaken his body. As parents we were so concerned when so many doctors had no answers. Our son did his own in depth research and found this book. We ordered extra copies and I read it from cover to cover so many times. Having a diet to follow has been so helpful. Knowing that there are other people out there who understand your symptoms is a relief. Richard Kuhns has probably saved so many people's lives that he may not be aware of." Eileen Unger
"I had been struggling with Morgellons for over 3 years. I was at the end of my rope. I wanted to burn my house down. I asked my pastors to pray for me at church one Sunday, and they prayed that I would find creative solutions. The next day I found Richard Kuhn's Book, "How To Get Your Life Back From Morgellons and Other Skin Parasites."
I started the diet the bathing, and disinfecting. I joined the Sunday afternoon conference calls. It was such a relief to find a community of support and a series of protocols that actually worked. It took months of never giving up, referring to the book daily and being aggressive, but I got through it and eventually became a free coach with Richard, because I wanted to give back." Robin O'Hern
Sandra Kasarie, a sufferer of Morgellons for 16 years who now has her life back. She was committed to mental institutions three times by ignorant physicians, spent over $150,000 with no results, out cast by family, and by using Mr. Kuhn's protocol has gotten her life back within one year.
His book is available thru Amazon with over 180 4.6 star reviews and is a must read for anyone who suspects skin parasites as the culprit of their skin discomfort. Read it and decide for yourself whether Morgellons is real or imagined.
The book is also available as a free eBook by visiting his website at http://www.debridingsoap.com.
For more information regarding Morgellons, please go to http://www.BestMorgellonsCure.com
or contact Mr. Kuhns via email at knicman2@gmail.com
Release ID: 88986846