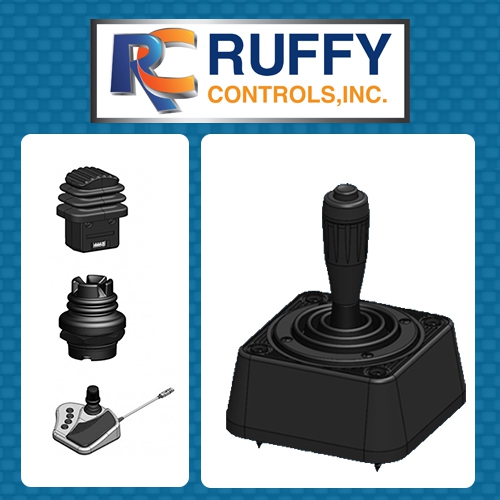 - April 5, 2016 /PressCable/ —
Earlier today, Ruffy Controls Inc. announced the launch of its new Precision Joystick Business, set to go live April 7, 2016. In addition to this announcement comes the launch of their Custom Joystick ordering system. For anyone with even a passing interest in the world of Precision Joysticks, this new business line with it's easy to access, easy to use, custom ordering service will be worth paying attention to, as it's set to shake things up.
Currently, with even a passing glance, a person will notice most companies take 12 to 14 weeks to deliver products. The Vice President of Sales at Ruffy Controls Inc., Scott Meyers, makes a point of saying "things are going to change when the Precision Joystick Business launches".
Scott Meyers continues… "As an emerging leader and innovator in the joystick industry, our strength as a company is founded on the commitment of helping customers grow by providing world class products, exceptional customer service and finished goods in stock. As a result, we are able to provide high quality products with the shortest possible lead times. We stay committed to the philosophy that Ruffy Controls is operated only on the highest value of service, quality and innovation with design, tooling and manufacturing all controlled under one roof in a 10,000 sq. ft. Carlsbad facility. Where you'll see competitors doing the same old thing, we make a point to keep finished goods warehoused in stock with a maximum delivery time of no more than 2 weeks. We do this because we believe it allows a customer to ordercustom products and take advantage of shorter delivery times. Ultimately this is going to be a huge benefit to customers because they will be able to get products easily and quickly so they can bring them to market. The new Custom Joystick Ordering service allows us to showcase superior products, technical expertise and innovation, and provide the industry's shortest lead-times and ensure finished goods on the shelf."
Ruffy Controls Inc. was founded in 2013 by Charles Hayes, Tom Wirbelauer and Joe Elliott in Carlsbad, California and the team at Ruffy has over 100 years combined experience in the joystick industry. Stating an increasing demand for product line expansion, Ruffy Controls has also expanded their team and has brought in David Hurrle and his team of engineers specializing in all things mechanical, electrical and software related.
Currently, the closest thing to Ruffy Controls Inc.'s product fulfillment service is a 12 to 14 week lead time, but Ruffy Controls has a.commitment to warehousing (finished goods) joysticks under one roof. This alone is predicted to make Ruffy Controls Inc.'s Precision Joystick Business more popular with customers in the Joystick Manufacturing space, quickly.
Says Meyers… "We are ready, willing, and able to fully help and support our customers with this new line of Precision Industrial Joysticks and Control Devices.
Once again, the Precision Joystick Business service is set to launch April 7, 2016. To find out more, the place to visit is http://www.ruffycontrols.com
Release ID: 109205