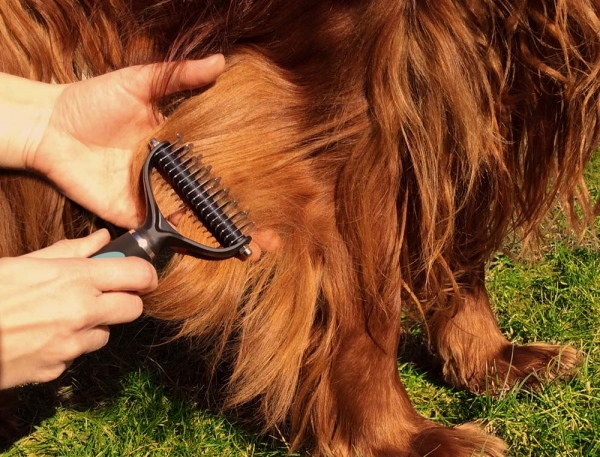 - August 20, 2015 /PressCable/ —
Rubold Dog Products today reflected on its release of Fur Perfection Dog Dematting Tool 6 months ago. The main aim was always to give dog owners greater peace of mind knowing that they don't hurt their furry friends and still can give their dogs a gorgeous look… and by defying convention, this dog grooming tool did so, with a difference.
Laszlo Szotak, Founder at Rubold Dog Products, says: "We wanted to try something new with Fur Perfection Dog Dematting Tool. Anyone familiar with the dog grooming market will probably have noticed how other brands always seemed to launch grooming tools to the market without considering the needs and feelings of the dogs. Most of the grooming tools irritate or scratch the skin because of their pointed and sharp edge. We felt this was a problem because dog owners unintentionally hurt their pets, which may evolve fear in the dog against grooming and ultimately a bad relationship between the dog and the owner."
So as a welcome breath of fresh air, Fur Perfection Dog Dematting Tool instead designed to be gentle on the dogs skin, thanks to the special rounded edge stainless steel teeth. Rubold Dog Products chose to make this move because we believe dogs deserve the gentle and stress free grooming without any pain.
Laszlo Szotak also said "We want to give our customers safe solution for dog brushing. With our dog grooming tool, they have a fresh new possibility. We want them to feel relaxed when using Fur Perfection. Trying something new is always a risk, but it's a risk we believe is worth taking."
Rubold Dog Products has always aimed to be the best choice for prime dog owners by providing great products and services for serious pet owners.
Fur Perfection Dog Dematting Tool is now available at Amazon.com. To find out more, it's possible to visit http://www.amazon.com/dp/B00STEJE8S
For further information about Rubold Dog Products, all this can be discovered at http://www.rubold-dog-products.com
Release ID: 89482