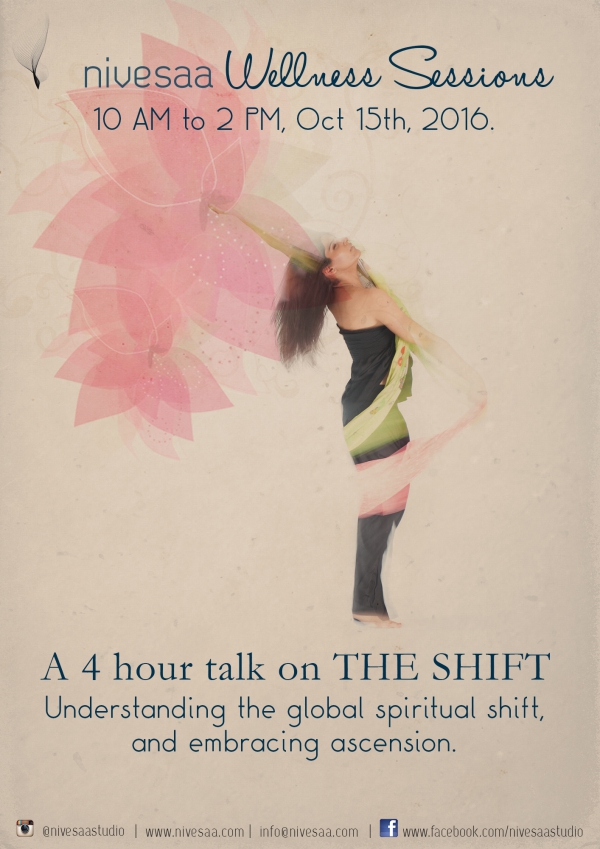 - September 24, 2016 /PressCable/ —
Earlier today, Nivesaa announced the launch of its upcoming Wellness Weekend, set to go live October 15 2016. For anyone with even a passing interest in the world of wellness, this new development will be worth paying attention to, as it's set to shake things up.
Currently, with even a passing glance, a person will notice that the same thing everyone else does with a regimented schedule that mostly includes yoga, meditation, diets and massages; Nivesaa seems not up to that old-dated stuff in their offering. They are rather offering a discussion on the upcoming changes leading to the Shift in Human Consciousness post 2012 along with a full day workshop on Auras and Chakras! The Co-founder at Nivesaa, Aastha Gulati, makes a point of saying "Things are going to change when our Wellness Weekend launches".
Aastha Gulati continues… "Where you'll always see our competitors doing the same old thing, we will hold a small discussion on this SHIFT in Human Consciousness that awaits all of us which would cover the following challenges: "What is this SHIFT?", "Understanding the SHIFT in terms of science!", "Understanding the SHIFT in terms of what lies within!", "What can one do?", and "A small exercise/meditation to get guidance on how to prepare for the SHIFT". We will also share our experiences. On the second day, we will address the following questions: "What are chakras?", "Difference between Aura and Chakras", "The seven major chakras", "How to do a chakra reading for oneself and others", "How to cleanse chakras", "Minor chakras and their significance", "Affirmation designing and healing through chakras" and "Physical ailments and dealing with it using chakras". We do this because we believe it imparts an insight into the most important factors that are going to affect the wellness of human life on this planet in the years to come. Ultimately this is going to be a huge benefit to our customers because the facilitator will also be slotting a round of discussion or a healing session or else a chakra reading session for the participants – if they are keen on going for an in-depth analysis of their health, repeated issues, shifts within etc."
Nivesaa was established in March, 2014. It has been doing business more than two years and it has always aimed at training people to move, connect and transform..
Currently, the closest thing to Nivesaa's Wellness Weekend is traditional wellness weekends offering nothing new and challenging in them., but Nivesaa improved on this by challenging the sense of responsibility that people must realize concerning these life-transforming insights. This alone is predicted to make Nivesaa's Wellness Weekend quite popular with customers in the Wellness space, quickly.
Once again, the Wellness Weekend service is set to launch on October 15 2016. To find out more, the place to visit is http://nivesaa.com/wellness-weekend/
Release ID: 133503