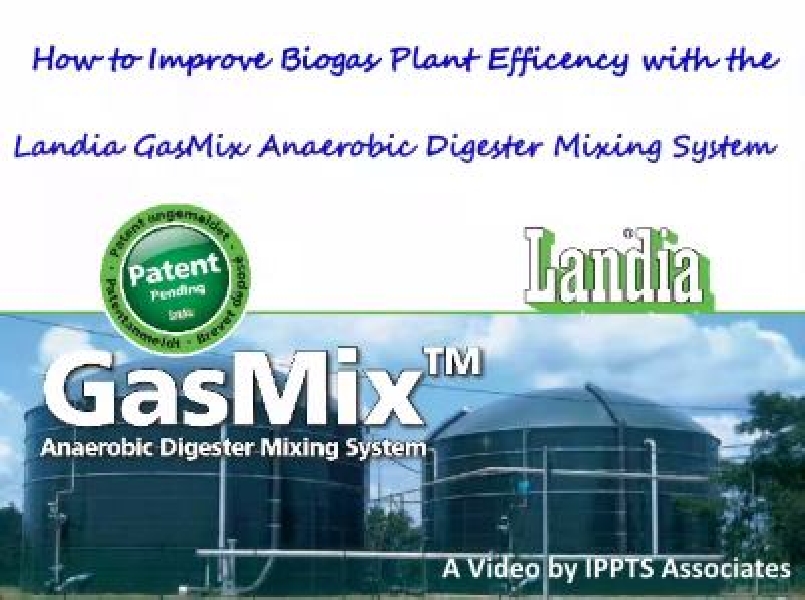 - September 23, 2014 /MarketersMEDIA/ —
Shrewsbury, United Kingdom – September 23rd, 2014 /PressCable/ —

Biogas Plant Owners and Operators, looking for the latest information on improving the efficiency of their processes, have been pleased to find that a new video created by IPPTS Associates explains how the Landia GasMix gas mixing system improves biogas efficiency from AD Plants. All biogas industry professionals are invited to view this video, which is currently available to watch on the "AnaerobicDigestion" YouTube channel managed by IPPTS Associates. This channel provides expert guidance on AD and biogas plant systems, and related renewable energy and bio-fuels information, on a regular basis.
The new video reveals how a Landia GasMix installation (installed during initial construction or retro-fitted), boosts Biogas Yield from AD Plants. The video was created specifically with the needs of Anaerobic Digestion Plant Owners and Operators in mind, and IPPTS Associates welcomes input on further topics to explore in future videos.
Interested individuals can watch the YouTube uploaded video here https://www.youtube.com/watch?v=v4PoGvPbVLM or read more on the company website at: http://blog.anaerobic-digestion.com/anaerobic-dige…
Planned upcoming videos include:
"How Anaerobic Digestion Plants Work", and "How to Upgrade Biogas to Biomethane".
The unique Landia Chopper Pump combined with their ingenious Biogas Purge Sequence certainly is creating a "Big Stir"! – as it explains how market-best stirring action not only mixes, but also breaks up problematic hard-pan from the surface of anaerobic digestion tanks.
Improved Biogas yield and quality is achieved from the same substrate, raising Biogas Plant profitability – and the video explains just how the sequence of chopping, mixing, and gas purging actions of the GasMix system succeeds in accelerating biomass activity, bringing with it numerous other benefits.
The Landia GasMix system is available worldwide from offices in North Carolina (US), Lem, (Denmark – HQ), Shropshire (UK), Zetel (Germany), and Shanghai (China).
Steve Last, PR Manager of IPPTS Associates had this to say about the new GasMix video:
"Our video, produced for Landia, has so far proved remarkably successful with a high viewer retention period. We think that by using the popular whiteboard sketching format for the video we have produced a video which explains detailed technical information in a highly accessible and interesting way."
After the YouTube GasMix video launch last month, interested Biogas Plant Owners and Operators can view more new videos, when they are added to the IPPTS "AnaerobicDigestion" YouTube channel.
Copies of all IPPTS' AD and Biogas videos, as well as review articles about each Anaerobic Digestion technology topic can be also be found on the company website, as given in the link above.
Contact Info:
Name: Steve Last
Email: info@blog.anaerobic-digestion.com
Organization: IPPTS Associates
Website: http://blog.anaerobic-digestion.com/
Phone: (888) 990-0515
Address: Houston
Release ID: 63916