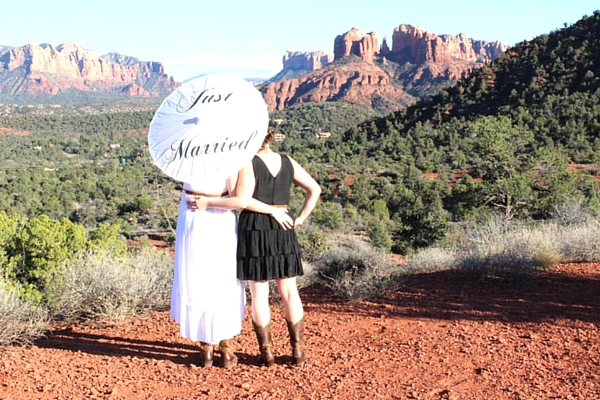 - March 2, 2016 /PressCable/ —
Sedona Destination Weddings added LGBT weddings to its list of services the same week in October, 2014 when the State of Arizona legally recognized same-sex marriages. But same-sex ceremonies are nothing new to Sedona Destination Weddings. The company has officiated Sedona civil unions since they were acknowledged by the City of Sedona in October, 2013, as well as same-sex commitment ceremonies for many more years prior to that. With the Supreme Court ruling last June affording same-sex couples the fundamental right to marry in all 50 states, Sedona as a destination wedding site for gay and lesbian couples is rapidly increasing in popularity.
A number of Sedona, Arizona wedding officiants are now performing rainbow weddings. Previously, before the Supreme Court ruling, it was more difficult to find LGBT wedding planners and officiants. Co-owner of Sedona Destination Weddings, Iala Jaggs, makes a point of saying, "For us, it's not about jumping on the bandwagon of a new market to serve. We've always been honored to officiate gay and lesbian sacred unions as long as we've been providing wedding services."
Jaggs continues, "We do this because we believe love is love. And the celebration of a sacred union in the sacred space of Sedona should not be limited to just the few."
It's no surprise that other companies are beginning to jump on the bandwagon, though. Before the ruling, Forbes estimated that gay marriages could potentially boost the overall wedding industry by as much as $9.5 billion a year and, according to Community Marketing, Inc., gay and lesbian couples spend about $70 billion a year on travel.
According to the Gay Wedding Institute, approximately 70% of gay couples are looking for wedding vendors with LGBT inclusive language and about the same number purposely seek vendors with gay and lesbian inclusive photos in their marketing.
A quick web search on Google for "gay weddings Sedona" brings back only one company web page result, Sedona Destination Weddings. There are also a number of articles that mention other LGBT wedding providers in Sedona and Phoenix, Arizona, many of whom have only recently embraced same-sex unions because of the law changes.
Jaggs responds, "Ultimately, we knew it was going to be of huge benefit to our clients because they can rest assured that rainbow weddings are nothing new for us and that we have only their best interests at heart. We actually hope others follow suit."
Sedona Destination Weddings was established in 2008. They have officiated hundreds of weddings in Sedona, stating that they believe it's their calling and their passion to share the beauty and sacred energy of such a magical place with couples from around the world. Sedona, Arizona has been tagged as one of the 10 most sacred spots on earth by Fox News and many other sources because of its famous powerful energy vortexes.
Click here to find out more about gay and lesbian wedding services.
For further information about Sedona Destination Weddings, go to: www.sedonadestinationweddings.com
Release ID: 105462