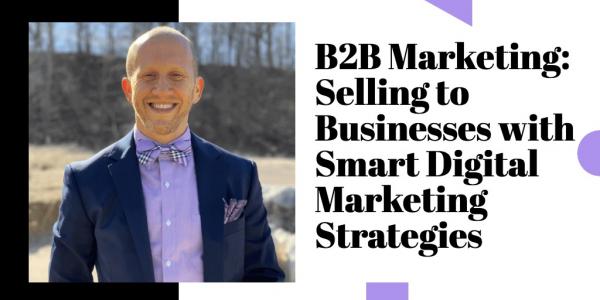 - November 13, 2020 /PressCable/ —
The pandemic has upended every aspect of the way business is conducted. This has underlined the importance of digital marketing as an essential tool to help businesses survive, according to Michael Mayer, founder of Main Event Digital.
Mayer recently guested on the Harvest Growth podcast, which features "inspirational stories from successful inventors and entrepreneurs…targeted at helping aspiring inventors and market-leading entrepreneurs alike," according to its website.
Launched in 2020, Main Event Digital is a full-service digital marketing agency that focuses on underserved manufacturers, distributors and wholesalers. Since the pandemic, Main Event Digital has helped fill a need for these companies that have needed to outsource their marketing departments due to staff cutbacks.
Mayer discussed with Harvest Growth founder and podcast host Jon LaClare the need to improve B2B marketing efforts at a time when traditional platforms such as trade shows have been shut down. It is short-sighted, he observed, for companies to rely just on a company website, no matter how highly-functioning it is. "The key strategy is to get them into the marketplaces, such as Amazon and Wal-Mart," he said.
But in addition to cutting-edge strategies, Mayer said that his company has not abandoned old-fashioned marketing approaches such as telemarketing and direct mail. "Some of the old methods that people have gotten away from can now be the most effective because there is so much noise on social media, in your inbox and on Google where people are competing for SEO position," he said.
One secret he shared with LaClare is that companies cannot just create a website and hope people will use it. One mistake that companies make, he said, is that they rely on manufacturers' content to move products. "One of our most effective tools," he said, "is custom-written, unique content that engages users."
Companies need to get behind their websites, he added. "Once you have a website and are selling online, it is imperative to get your internal sales team behind what you're doing. This can be accomplished through rewards when they drive people to the site. In addition to that, many companies don't spend time on educating their customers on how to use all the digital services they offer, such as mobile apps."
Mayer was digital marketing before digital marketing was cool. For more than a decade, he has worked for billion-dollar-plus companies launching and managing their e-commerce and digital marketing programs. He was bitten by the entrepreneurial bug at the end of last year, and embraced the opportunity to "expand my horizons," he said. "Rather than do this for one company, do it for many companies. We are filling a niche during this difficult time. Companies more than ever need digital to help their businesses survive."
Release ID: 88985518