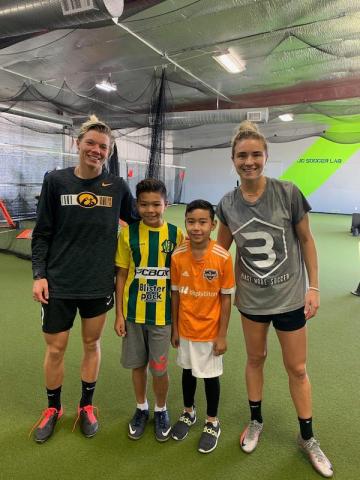 - February 10, 2022 /PressCable/ —
The dedicated sporting complex has long been one of the best of its kind in the city, and they are proud to now be offering professional and semi-professional players in the region the most rigorous training courses and high-level facilities.
More details can be found at http://www.jcsoccerlab.com
The launch coincides with the increasingly high standard of players in the state. As John Arnold said for The Striker Texas, "Texas has contributed more to soccer in the U.S. than almost any state". In particular, with the meteoric rise of the new Austin FC team in 2021, the state has continued to pledge its allegiance to 'the other football'.
As such, JC Sports Houston can offer both established and up-and-coming professional players the expertise and environment that will support them in their development and allow them to reach their performance peak.
A number of high-profile players have already begun to take advantage of all that the complex offers. In particular, two recent Tokyo Gold Medalists, Nichelle Prince and Sophie Schmidt, have been training at JC. Likewise, the center's coaches have been working closely with Kimberly Rodriguez, one of the shining stars of the Mexico women's national team.
Also currently at JC are a slew of the United States women's national soccer team (USWNT) players, including Jane Campbell and Kristy Mewis.
As may be evident from the names of these young sports stars, JC Sports Houston is a proud supporter of gender equality in competitive sports, and they are thrilled to be lifting up some of the top female athletes in the country.
Alongside their expert, passionate staff and pristine facilities, JC Sports Houston is also equipped with the latest cutting-edge soccer technology, including Rezzil virtual reality tools and Elite Skills Arena (ESA) smart goals technology.
With this multi-pronged approach to training, the center is confident that they can help players to realize their greatest potential as they prepare for their professional leagues and international competitions.
JC Sports Houston is located just outside the north-eastern metro region of Houston, in-between Humble and Atascocita, Texas. Beyond the JC Soccer Lab, the center works with athletes and players of all ages and abilities in soccer, baseball and basketball.
A spokesperson for the sports center said, "With the JC Soccer Lab you can break the limits of your soccer training."
More information is available at http://www.jcsoccerlab.com
Release ID: 89063680