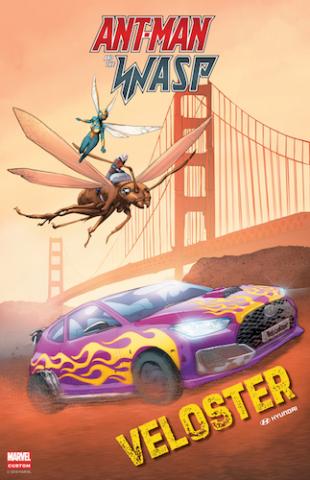 - August 24, 2018 /PressCable/ —
Houston, TX: South Loop Hyundai has announced the arrival of the all new 2019 Hyundai Veloster as seen in the hit Marvel Studios movie 'Ant-Man and the Wasp'.
Prominently featured in the latest Marvel Studios smash hit, the 2019 Hyundai Veloster has been a hit with automotive experts and critics as well. The freshly re-designed hatchback has been raising eyebrows and turning heads since it's cinematic debut and Houston Hyundai fans now have an opportunity to test drive Hyundai's latest turbo-charged offering.
"Similar to Marvel's passionate fans, the Hyundai Veloster attracts customers who are always looking for that next extraordinary moment and yearn for new discoveries and opportunities," said Dean Evans, Hyundai Motor America's CMO. "With both the Veloster and Ant-Man thriving on individuality, we feel this partnership is a great fit and we're excited to be accompanying Marvel on their next adventure."
"This film is a roller coaster ride from start to finish that will encourage viewers to see their worlds through a more adventurous, action-packed lens," said Marvel's SVP of Global Partnerships & Marketing, Mindy Hamilton. "The Veloster totally exemplifies the energetic, no-holds-barred attitude that accompanies this franchise, and we're going to have a lot of fun working with Hyundai to see how we can share that mindset with fans all around the world."
South Loop Hyundai is proud to showcase the all new 2019 Hyundai Veloster. Located on the 610 Loop in Southwest Houston, South Loop Hyundai's commitment to providing customers with extraordinary opportunities like this is just one of the many hallmarks of the Houston-based dealership.
More information can be found at: https://southloophyundai.com
South Loop Hyundai
8811 Lakes at 610 Dr, Houston, TX 77054
Follow South Loop Hyundai at:
South Loop Hyundai Veloster Facebook
South Loop Hyundai Veloster Twitter
South Loop Hyundai Veloster Instagram
South Loop Hyundai Veloster Google+
South Loop Hyundai Veloster Youtube
General Manager Mike Shaw stated, "With its new style and America's Best Warranty, a new Hyundai is a perfect vehicle for anyone in the market for a new vehicle built for 21st century driving. View our new Hyundai lineup for yourself to see how the bar has been raised on automotive safety, comfort, and convenience with every new Hyundai model like the Elantra, Sonata, Tuscon, Santa Fe Sport, and of course, the Veloster."
Click here to schedule your test drive of the new 2019 Hyundai Veloster or call 713-364-0233 to get more information on this incredible opportunity at South Loop Hyundai.
Release ID: 396370