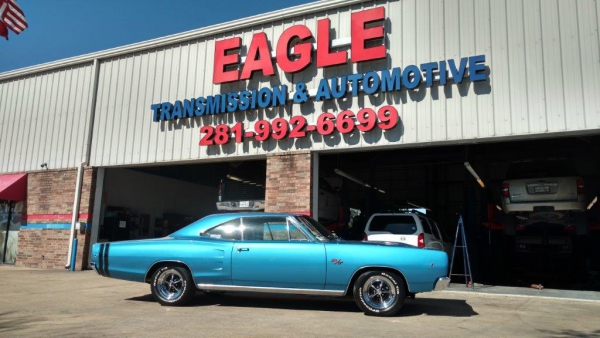 - September 6, 2016 /PressCable/ —
A respected Houston automotive transmission repair service shop has launched a new report with a focus on providing the best in customer service. Eagle Transmission Friendswood believes, people and doing what is right, come well before profits and they are demonstrating this belief every day by revealing to 36% of their customers they don't have a major transmission problem.
More information can be found on the Eagle Transmission Houston website at http://southhoustontransmissionshop.com
Eagle Transmission is a locally owned and operated shop that has been serving the South Houston Bay Area since 1999. It has over 60 years of combined transmission experience and a state of the art facility to ensure that it gets the job done right, giving customers peace of mind that their car will be repaired to the highest standards.
The owner explains, "…it's the way a company treats people that make all the difference and doing so is a personal passion of the Eagle team". Eagle Transmission provides free shuttles to and from work or home and utilizes a text messaging system to keep customers informed during the entire repair process. The company also picks up and drops off cars at customers' home and work, and employs a VIP delivery process that includes washing customer cars and cooling their cars off prior to pick up.
Eagle Transmission explains that when they say they offer free initial diagnostics, they truly mean it. They have had many customers who believed, and/or were told, they had major transmission issues, including one woman who was told her Honda had transmission issues but in reality only needed half a quart of fluid. Eagle Transmission added the fluid and refused to take payment for it.
In its new report, the company emphasizes that when it comes to ensuring good customer service in the car repair industry, they believe in putting relationships before profits. They know that if they take care of people, the sales will take care of themselves, and to this end challenge their technicians to find one small "extra" repair they can make to each customer's car at no charge to the customer, including installing a good used tire on an Isuzu Rodeo when they noticed the existing spare was torn up.
Full services provided by Eagle Transmission can be found on the company website.
Release ID: 131227