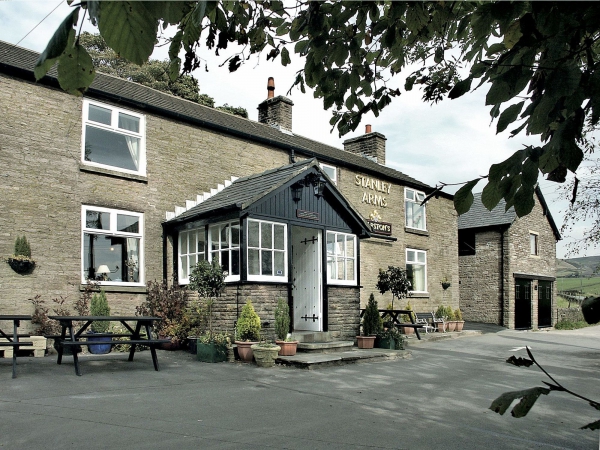 - August 15, 2017 /PressCable/ —
Adrian and Carolyn Taylor are celebrating 21 years in charge of the Stanley Arms, a hotel, restaurant and public house situated in idyllic countryside between the silk town of Macclesfield, Cheshire and the spa town of Buxton in Derbyshire. Adrian, who runs the Stanley Arms Hotel says; "Carolyn and I are really proud to have reached this milestone in our business careers and to celebrate 21 again is a bonus! I believe the secret to getting this far in business today is to listen to your customers, hear what they really want and act on it."
Historically, prior to 1906 The Stanley Arms was a working farm. The licence for the pub was transferred from the School Rooms in Macclesfield Forest in 1906, and for many years The Stanley Arms was both a working farm and public house. In 1908 Earnest Bullock took over and ran the pub for the next 50 years!
Around 1980 the pool room was converted into a restaurant and one of the earliest challenges The Stanley Arms faced was to maintain the tradition for the provision of quality food for its customers, a fact which Adrian & Carolyn were well aware of when they took charge in 1996.
Head chef Carolyn Taylor stated;
"Ever since we took over I was determined to maintain this excellent reputation for great food. In fact it must be working as we have customers booking tables weeks in advance to make sure that they can come and enjoy our famous 'Bottom of the Oven Lamb' – a quarter shoulder, glazed with redcurrant jelly and herbs, slowly roasted and served with a rich red wine sauce." The Stanley Arms then added an additional service for its visitors when it was able to offer accommodation from mid August 2004xxxx.
Originally called The Derby Arms, named after Lord Derby, it changed its name before the Second World War, to the Stanley Arms (Stanley being the family name of Lord Derby of Knowsley). In recent times the Stanley Arms has been a tenancy of Marstons Brewery, part of The Union Pub Company, Wolverhampton & Dudley Breweries and most recently NewRiver, a leading property investor, asset manager & developer.
Landlord Adrian Taylor stressed;
"One of the high points of The Stanley Arms history so far was when we moved into the hotel business by converting an old barn adjacent to the property into seven luxury rooms. Carolyn and I could see the potential as we are in an ideal location for business travelers and tourists. We have annual visitors from not just the UK but also from around the globe."
The Stanley Arms was at one time renowned for its 'Tea Room' situated in a wooden hut, in what is now the car park. It has been suggested that the wooden 'Tea Room' was originally the jockey's changing room at Aintree! The old hut from the pub can still be seen as it now resides just up the road at Tor Gate Farm.
Another quirky fact about the Stanley Arms is that adjacent the front entrance is a row of blue seats, rescued from Maine Road, the former home of Manchester City Football Club!
The Stanley Arms Hotel has big plans for the upcoming year. One of their core objectives is to increase their online exposure by establishing Social Media properties. More information on the business can be found at http://www.stanleyarms.com
Release ID: 228744