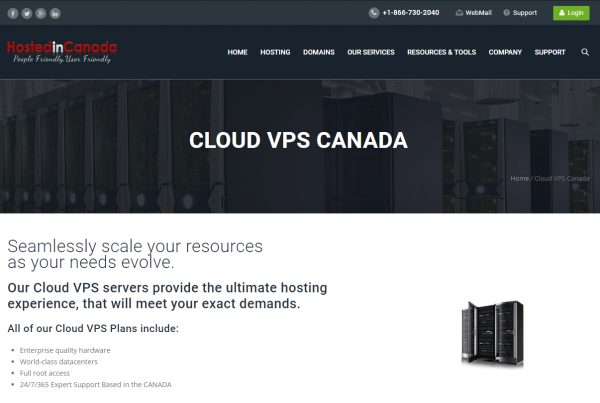 - December 11, 2017 /PressCable/ —
Hosted In Canada today reflected on its updated release of VPS Servers in Canada. The main aim was always to to offer cost effective, secure and easy to manage VPS servers located here in Canada…. with a difference.
If you have Data stored in another country, is subject to that country's laws and regulations in regards to how data is managed, stored, and most importantly, how it is secured and kept private. They guarantee the data is stored in Canada.
Dean Wolf, President at Hosted In Canada, says: "Anyone familiar with the Cloud Web Hosting in the Canadian market will probably have noticed how everyone else always seemed to rent American based servers in the USA. We felt this was a problem because the data is outside of Canada."
Increasingly, Canadian data is being stored in the United States, where the privacy of the data is threatened by the Patriot Act and the Cyber Intelligence Sharing and Protection Act (CISPA). These acts allow American entities such as the NSA and the FBI to access data stored anywhere within the United States.
The ability for USA based governmental agencies to access data without warrant or notification to the owning party has resulted in the governments of British Columbia and Nova Scotia ordering that all data related to Health Services remain in Canada, even going as far as to keep them at the Provincial level. This is supported by a study that reveals that almost 25% of Canadian and UK businesses are moving their data out of the United States due to the passing of bills such as the PATRIOT Act and CISPA. This study indicates that data privacy and security is incredibly important. Businesses are moving their data to Canada, not only for the better privacy laws but for redundancy across a large infrastructure.
So as a welcome breath of fresh air, VPS Servers based in Canada.
https://www.hostedincanada.com/vps-hosting/
Dean Wolf
HostedinCanada.com
1816 Crowchild Trail NW, #700
Calgary, Alberta T2M3Y7
1-866-730-2040
Release ID: 275613