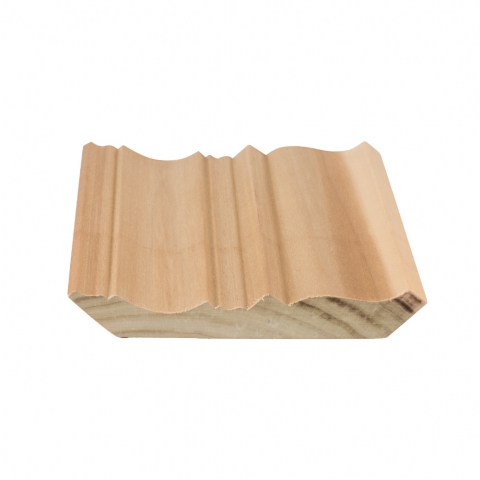 - August 22, 2017 /PressCable/ —
Los Angeles, California – August 17, 2017
For homeowners looking for a great idea for their bedrooms, cabinets, or hallways, Blumer & Stanton's Creative Wood Cut Crown Moulding will inspire them. In the past, people have commonly installed crown moulding in living rooms, but some new ways homeowners are using crown moulding is to accentuate their kitchen cabinet tops with it.
Blumer & Stanton's decorative crown molding pieces can be used to make a dramatic and elegant statement. It adds a finishing touch to the join of a wall and the ceiling of a room. While Blumer & Stanton's' Creative Wood Cut Crown Moulding is commonly applied to join walls and ceilings, it's versatile enough to be used as a decorative touch for cabinets, cornice assemblies, and window or mirror frames.
Blumer & Stanton's wall to ceiling crown molding kit offers a traditional feel in both older and newer homes. A company spokesperson from Blumer & Stanton notes, "Our Creative Wood Cut Crown Moulding is easy to handle and install. The mid-section relief provides a defined, stepped transition between the cove at the bottom and the subtle S-curve at the top. This creates the appearance of a multi-piece combination moulding due to this prominent break between its features."
Weather homeowners are looking to add crown moulding to enhance a room with low ceilings, or need help to improve their kitchen cabinet's appearance, Blumer & Stanton's Creative Wood Cut Crown Moulding is an appropriate crown moulding that can serve as the finishing touch in improving a home's visual aesthetic. The company spokesperson adds, "Our Creative Wood Cut Crown Moulding is perfect for a paint finish and is recommended for indoor applications."
The Creative Wood Cut Crown Moulding can help to complete a makeover or transform any room from ordinary to extraordinary. Not only is the crown moulding visually appealing, it is custom milled from poplar wood to ensure it lasts decades. This means that Blumer & Stanton's hand-milled crown moulding is a good option for people wanting to increase the value of their home. "Our wood crown moulding is milled in-house by our dedicated team of wood moulding mechanics," the spokesperson said.
Blumer & Stanton offers a full satisfaction guarantee on their Creative Wood Cut Crown Moulding as long as the material has not been altered in any way. People who are interested in knowing more about the company or their products can visit their website or Amazon.
https://www.amazon.com/s/ref=nb_sb_noss_2?url=search-alias&field-keywords=crown+moulding+corner+block&field-brand=blumer+&+stanton
About Blumer & Stanton, Inc:
Blumer & Stanton Enterprises is located in West Palm Beach, Florida, and was established in 1946. Blumer & Stanton primarily operates in the Millwork business, making quality custom woodwork. For over 71 years, the company has had the privilege of serving South Florida's distinguished and quality-conscious builders with custom architectural woodwork, entryways, cabinets, columns, doors, shutters, and wood moulding profiles – from elegant upscale residences to high-end commercial projects.
https://www.amazon.com/s/ref=nb_sb_noss_2?url=search-alias&field-keywords=crown+moulding&field-brand=blumer+&+stanton
Release ID: 231390