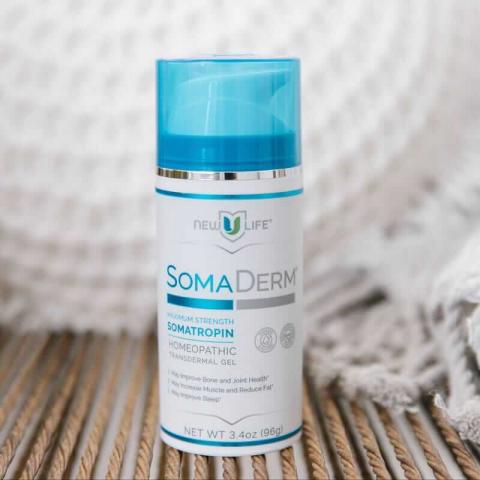 - July 20, 2021 /PressCable/ —
New U Life has launched their innovative new product, the SomaDerm transdermal HGH Gel, and will share more information about it at their upcoming global convention "Unlock your Momentum" in September 2021.
More information can be found at: https://somaderm.newulife.com/products/somaderm
New U Life has launched SomaDerm Gel as a botanical anti-aging formula that promotes health and wellbeing. Their proprietary homeopathic gel is formulated to increase natural growth hormone levels by up to 800 percent.
New U Life makes states that SomaDerm Gel can assist in reversing aging by increasing the production of the human growth hormone (HGH), which stops being produced naturally by the body around the age of 30, starting the aging process. Aging leads to skin wrinkling, bones becoming brittle, a drop in energy, and the weakening of muscles. The use of SomaDerm Gel can counteract these aging effects and consequently, lead to substantially improved health and wellbeing.
Other products offered by New U Life include NeuraVie, which has ingredients to support the 6 pillars of cognitive health – focus, memory, learning, accuracy, concentration, and reasoning – and Fortress which is formulated to support the body's immune system.
SomaDerm Gel and other products available from New U Life are researched and reviewed by their Scientific Advisory Board (SAB) which comprises top academic and industry professionals.
New U Life was founded by Alexy Goldstein, who is a certified homeopath, nutritionist, herbalist, and iridologist. SomaDerm Gel is the latest of many formulae created by Goldstein, who is passionate about natural foods, nutraceuticals, and performance supplements.
A satisfied customer has said about SomaDerm Gel: "My life has been transformed by this little drop of gel. My energy is through the roof and my sleep is unbelievable. Life is too short to continue feeling less than your absolute best."
For more details about New U Life, SomaDerm Gel and the "Unlock Your Momentum" convention, visit the following link: https://somaderm.newulife.com/products/somaderm
Release ID: 89037286