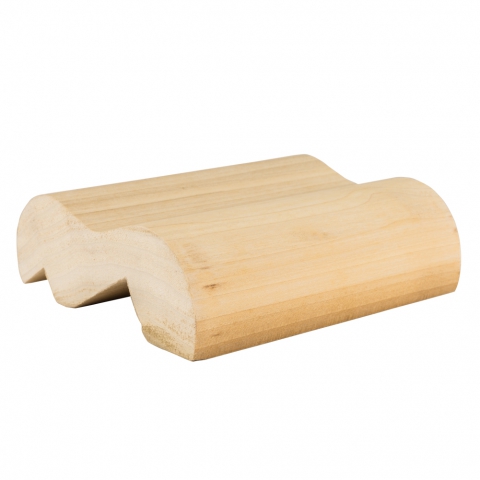 - June 6, 2017 /PressCable/ —
Los Angeles, California – June 1, 2017
Everyone has their favorite spot to enjoy a glass of wine or cocktail. For many homeowners, that spot is right in the comfort of their own home bar. Home bars serve as a practical place for entertaining family and friends, and eliminate the problem of not having a central area to gather around for a drink.
Home bars are created for relaxation, socializing with friends, and are an inviting way to catch up with people in style. Many homeowners find that a warm and welcoming home bar is a fun addition to their home. People that already have home bars enjoy the fact that they are a functional place to serve houseguests when they come to visit.
Blumer & Stanton's M-95 Chicago Style Maple Bar Rail Molding gives a bar top a more custom appearance. It is pre notched to fit perfectly over a ¾" bar top and ¾" sub surface, which is a construction technique preferred by professional carpenters for a more stable and sturdy bar. The M-95 Maple Bar Rail Moulding by Blumer & Stanton is sturdy enough to handle heavy use, and is practical enough to be used for adult entertaining.
Blumer & Stanton's M-95 Chicago Style Maple Bar Rail Moulding measures 1-3/4" x 4-7/8", and is sold and shipped in 8'-0" lengths. It serves as a place for people to rest their arms or elbows on it, or to lean up against it. Milled from maple wood, it easily accepts a fresh coat of paint or stain, and is recommended for indoor applications.
A spokesperson for Blumer & Stanton notes, "The M-95 Maple Bar Rail Moulding is a popular item, and is ideal for the bar top in restaurants, pubs, or DIY home bars and dens."
In addition to it's ability to be practical in a home bar, Blumer & Stanton's M-95 Chicago Style Maple Bar Rail Moulding instantly improves the atmosphere of a home bar. A home bar experience should be a welcoming and unique way to spend time with houseguests. Blumer & Stanton's M-95 Chicago Style Maple Bar Rail Moulding is classic and elegant, and is a good option for people looking to improve the atmosphere of their home bar.
Blumer & Stanton looks forward to providing online Amazon consumers it's Chicago Style M-95 Maple Bar Rail soon. People who are interested in knowing more about the company can visit their website, where they can learn all about the company's rich history of custom architectural woodwork – https://www.amazon.com/Maple-Wood-Bar-Rail-Molding/dp/B06XTXXC6K
About Blumer & Stanton, Inc:
Blumer & Stanton Enterprises is located in West Palm Beach, Florida, and was established in 1946. Blumer & Stanton primarily operates in the Millwork business, making quality custom woodwork. For over 71 years, the company has had the privilege of serving South Florida's distinguished and quality-conscious builders with custom architectural woodwork, entryways, cabinets, columns, doors, shutters, and wood moulding profiles – from elegant upscale residences to high-end commercial projects.
https://www.amazon.com/Maple-Wood-Bar-Rail-Molding/dp/B06XTXXC6K
Release ID: 204470