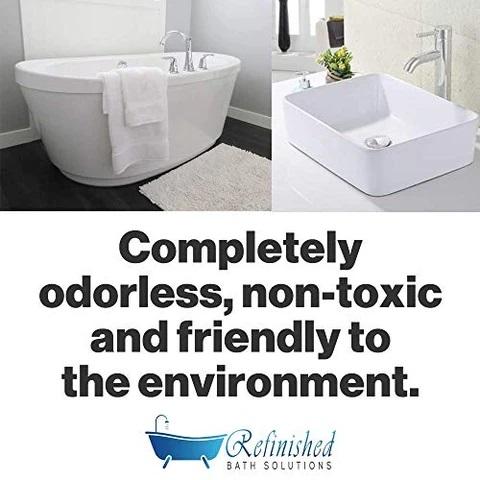 - April 2, 2021 /PressCable/ —
Refinished Bath Solutions, a bathroom and kitchen restoration company located in Hollis, New Hampshire, announced the launch of their Ekopel 2K DIY Friendly Bathtub Refinishing Kit. The business specializes in expert bathroom and kitchen fixture refurbishments.
More information can be found at https://refinishedbathsolutions.com
Established in 2016, the locally owned and operated company has been providing the community of Hollis with professional bathroom and kitchen restoration solutions. Their top product, the Ekopel 2K DIY Friendly Bathtub Refinishing Kit provides customers with a convenient and effective solution to bathtub restoration.
According to the restoration experts behind Refinished Bath Solutions, with the Ekopel 2K bath recasting system, there is no need to spend more money buying and replacing old bathtubs.
Unlike traditional bathtub refinishing agents, Ekopel 2K is not made of harmful chemicals and volatile organic compounds. It is easy-to-use, made of eco-friendly, non-toxic materials and is odor free. This makes it the perfect product for customers who want to DIY the recasting of their own tubs.
Ekopel 2k is a two-component, high-viscosity, self-leveling, pour-on polymer coating. It can be used on various bathtub finishes including cast iron, steel, ceramic and plastic. It has been known to extend the life of a bathtub for as long as 20 years.
The Ekopel 2K DIY Friendly Bathtub Refinishing Kit comes with Ekopel 2k Part A and Part B, a roller frame, a foam roller and scooper boxes. One Ekopel 2k kit is enough to restore one bathtub.
Before application, the user must mix the Ekopel Part A and Part B together for 10 minutes, rest it for 5 minutes and mix again for another 2-3 minutes. The solution can then be poured around the rim of the bathtub, letting the excess flow down into the tub. The foam roller is used to evenly spread and coat the bathtub's surface. Any excess solution can be removed using the scoopers provided.
According to one satisfied customer, "Wow! Used it on an old cast iron bathtub and it turned out beautiful. Will be doing this again very soon!"
Interested parties can call 877-882-2278 or visit https://refinishedbathsolutions.com
Release ID: 89003584