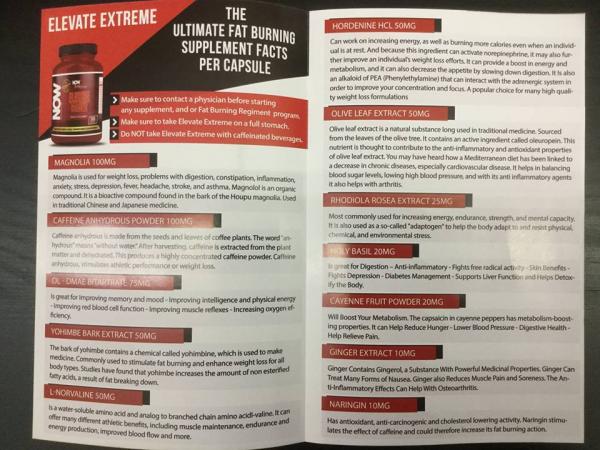 - April 11, 2019 /NewsNetwork/ —
Holistic wellness products company Now Lifestyle announced the launch of Elevate Extreme, an natural organic fat reduction and energy booster product. The product has been formulated to improve several core body functions and boost overall alertness and energy levels throughout the day.
More information about Now Lifestyle is available at http://www.nowlifestylesystem.com
According to studies by the CDC, 39.6 percent of adults over the age of 20 are classified as obese. Obesity in any degree has been documented to increase mental and physical lethargy, contributing to the progression of an unhealthy lifestyle. The National Institutes of Health rank obesity and being overweight as the second highest cause of death in the United States.
Now Lifestyle's new product is designed to supplement a healthy diet with 12 natural energy boosters that provide a sustained release of energy and promote the loss of adipose tissue. The product is available in capsule form and contains a full complement of vitamins, minerals, and micronutrients. Elevate Extreme also contains cofactors such as chromium, carnitine, and magnesium malate. These cofactors have a positive influence on digestion, joint health, mental wellness, fat metabolism, and other body systems.
Elevate Extreme contains natural energy supplements such as Magnolia, anhydrous caffeine, Yohimbe bark extract, L-Norvaline, Hordenine HCL, Olive leaf extract, Rhodiola Rosea extract, Holy Basil, Caynne fruit powder, Ginger extract, and Naringin.
The metabolic energy product promotes the sustained release of energy over a period of 8 to 12 hours. The product is completely vegetarian and is safe in its recommended dosage. The formula is expected to be available as an early release to Now Lifestyle Health and Wellness customers.
According to a spokesperson for the dietary health products company, "We are delighted to introduce Elevate Extreme as a powerful product that benefits several body systems and actively promotes fat loss, improved alertness, and all-day energy release. Our products are formulated to help individuals achieve sustainable improvements in mental, physical, and emotional wellness."
Headquartered in the city of Schertz, TX in the Greater San Antonio area, Now Lifestyle is headed by Joel Therien. The company markets it's line of lifestyle, exercise, positive reinforcement, and overall health products. More information about the company and its products is available at the URL above.
Release ID: 497994