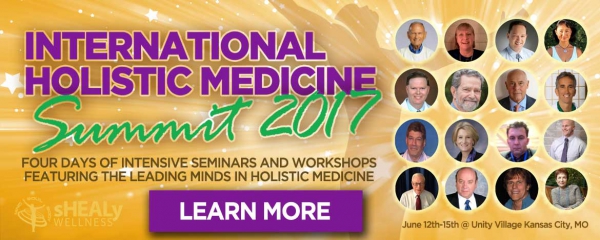 - March 22, 2017 /PressCable/ —
Join sHEALy Wellness For the Intl Holistic Summit In Kansas City, MO June 12th – 15th. Early Bird Pricing till April 8th! Doctors, Nurses, Holistic Practitioners looking for the latest information on Integrating The MULTIFACETED Holistic Medicine Approach can register to attend International Holistic Medicine Summit scheduled for June 12th – 15th 2017. Dr. C Norman Shealy and Dr. Sergey Sorin from sHEALy Wellness invite all to Unity Village, conveniently located in Kansas City, Missouri to learn from some of Holistic Medicine's greatest minds. Enjoy four full days of seminars and workshops dedicated to all facets of Holistic Medicine. Attendees will receive thirty six continuing education credits (CEU's) or up to nine AMA PRA Category 1 credits for seminar attendance.
The International Holistic Medicine Summit for 2017 will cover key topics from world renowned doctors and holistic practitioners such as:
Caroline Myss – Intuition as the Foundation for Holism, David Brownstein, M.D. – Holistic Medicine for the 21st Century: What Works and What Doesn't Work, C Norman Shealy, M.D., Ph.D. – Why Holistic Medicine? The Foundations for Healthy Longevity, Sergey Sorin, M.D. – Sound as an Integral Part of Holism, Melinda H. Connor, Ph.D. – Full-Spectrum Energy Techniques that Support Physical Tissue Repair, Claude Swanson, Ph.D. – Torsion and the Life Force in Energy Medicine, Shanhong Lu, M.D. – The "Chronically Sick American" and How to Restore Yourself in 90 Days, Brent W. Davis, M.D. – Quantum Science of Mind/Body transformation, Salaheldin Halasa, M.D. – Nitromedicine: Developing Protocols To Enhance Stem Cells and Manage Chronic Disease. More speakers and topics to be announced. Please check event website for full details.
When asked about the reasons behind creating this event, the hosts of the event, Dr. C Norman Shealy & Dr. Sergey Sorin said:
"Over the past 100 years American Medicine has distanced itself from natural practices to PharmacoMafia controlled and InsuranceMafia manipulated so called "Healthcare." The result is opioid addiction, drug complications killing over 106,000 people every year, remarkably expensive and ineffective approaches such has coronary bypass surgery and chemotherapy. The only answer is a truly Holistic approach which includes comprehensive integration of body, mind, emotional and spiritual CARE."
The best examples of Holistic Medicine can be experienced June 12-15, 2017 at the International Holistic Medicine Summit at Unity Village, Missouri, including the opening keynote by five time New York Times Best Seller, Caroline Myss. For more information and to save on admission with early bird registration sign up before April 8th at: https://sHEALYWellness.com
Release ID: 179998