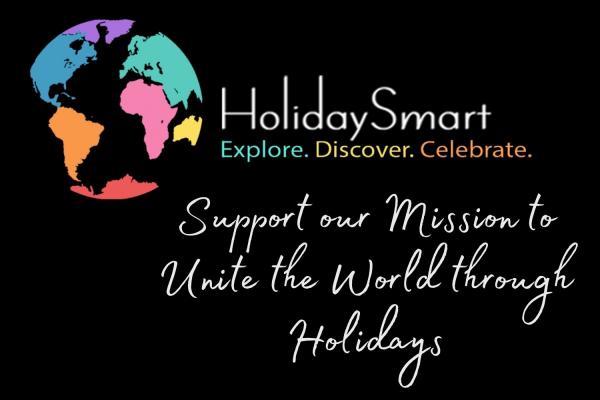 - November 19, 2021 /PressCable/ —
HolidaySmart is on a mission to Unite the World through Holidays and is kicking off the new year with a fundraiser to help support the mission. Their goal is to create positive awareness and love of cultures across the globe by sharing the stories of fun and interesting ways people celebrate holidays. HolidaySmart's focus is to encourage people to connect in a positive way by exploring different holidays and cultures, discovering their traditions, and celebrating with them.
To help support HolidaySmart's mission, go to https://support.holidaysmart.com/contribute/
Holidays Unite People and bring people together in shared interests. Whether sharing common religious holidays, national holidays, or daily fun, noteworthy or awareness holidays, people unite and celebrate in creative and unique ways. With so much discourse in the world and people feeling disconnected from others, HolidaySmart aims to connect and spread love, hope and joy.
Holiday Smart is a growing holiday and observance website that features calendars and holiday listings for all holidays as well as articles and content about holidays. The aim of the company is to be more than just a holiday calendar site and to be a community where people from all cultures, all beliefs, all backgrounds, can unite and share.
Holiday Smart also features daily fun days that unite people in creative ways, noteworthy days that celebrate a something noteworthy in society, and awareness days that raise awareness for a cause.
This past year has been a very difficult struggle and Holiday Smart needs supporters to grow. The funds will be used to grow the holiday community, keep up with website maintenance, add guests to the Daily Holiday Podcast, improve the calendar, and build on member suggestions. HolidaySmart offers rewards for every level of contribution as well as higher end sponsorships.
Holiday Contributors will become part of the HolidaySmart community. The levels are Holiday Fan, Holiday Enthusiast, Holiday Mastermind, Holiday Devotee, and Holiday Visionary. At the top level, contributors will become a Holiday Voting Board Member for Daily Fun & Awareness Holidays and be a part of adding new holidays to the calendar.
Holiday Patrons can join the mission and become a contributing member by going to https://support.holidaysmart.com/contribute/
Holiday Sponsors will be rewarded with ad placement on the holiday or country of their choice or will be the featured sponsor on the calendars or podcast. By supporting HolidaySmart, sponsors help to spread the word about their own business, charity, cause or organization through the ad placement, shout outs on social media and mentions in multiple media content with partners.
Holiday Sponsors can show their support and get started by going to https://support.holidaysmart.com/sponsor/
HolidaySmart's goal is to create positive connections and unity. When people come together and celebrate days such as Hug Your Puppy Day, or Chocolate Cake Day, it brings them together in a common happiness, which spreads positive vibes. When people come together on awareness days such as World Aids Day or Save the Elephants Day, is unites them through a common cause. Daily holidays have a way of reaching across cultures, religion and politics to unite people through shared interest and HolidaySmart is focusing on these positive connections.
To be a part of the global holiday unification effort and join the mission to unite the world through holidays, interested parties can go directly to https://support.holidaysmart.com/
Release ID: 89053514