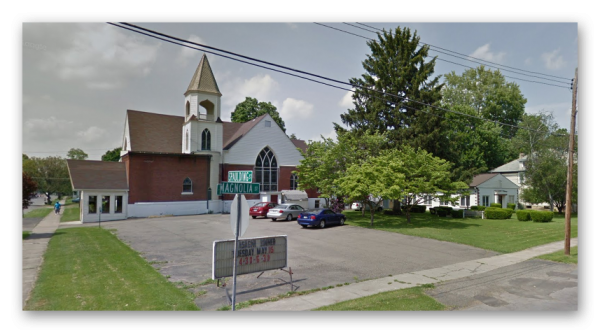 - November 13, 2020 /PressCable/ —
His Haven, today, announces 14,000 feet of additional growth for the newly founded organization based in Elmira, NY. His Haven is a non-profit, 501(c)3 Purely Public Charitable, faith-based organization created to genuinely love, train and equip people to reach their highest potential by networking and providing them with the necessary tools, favorable opportunities and reliable conditions to assist them in reaching their desired, God-given level of excellence. With the acceptance of their recent purchase offer on a building located on the south side of Elmira, this large addition now becomes their first of many brick and mortar locations His Haven will use to impact the local community. "559 Spaulding, in Elmira, NY is not just another building!" His Haven CEO, Todd Moss, states. "It is the future home of His Haven's first Ministry and Outreach Center!"
With a building to call home, His Haven will no longer need to borrow or rent facilities for their regular community programming and increasingly popular Priori-Days. Priori-Days are specialized programming days in which His Haven focuses on an individualized need in the community and strives to assist in helping individuals and families in filling that need. The needs that Priori-Days address in the community are met both individually and corporately and on many occasions, His Haven partners with some of the other wonderful organizations in the community to bring about positive change! Some of His Haven's more popular Priori-Day outreaches have consisted of day camp for neighborhood children when school is not in session, annual Steak & Shave Men's Day for Veterans, homeless men and men recovering from addiction, Women's Beautiful You Day for unwed moms and women transitioning out of addiction and special event days for local nursing home residents. If there is a need that falls within the objective of the organization, His Haven strives to make it a priority!
His Haven understands the value of building relationships and making personal connections with the wonderful people within the community of Elmira. His Haven's Operations Manager, Julia Moss, empathetically shares, "People need hope in their now and there is nothing more comforting than knowing you have someone walking with you towards a brighter future. His Haven, LOVES happy endings!"
His Haven has done their homework and after careful assessment of the specific needs of the community in the south side region, His Haven is eager for their feet to hit the ground running after they close on their new building. Todd Moss and his wife, Julia, have been actively involved in community service for over fifteen years. They know the importance of leaning on the community in which they serve and allowing community partners to be a part of the positive change happening in the region.
With His Haven's recent receipt of a $190,000 grant for transportation and programming needs within the organization, there are other non-grant covered specific enhancements and upgrades that need to take place within the building to be ready for immediate use to begin serving the community. His Haven's most pressing need is additional funding for the capital purchase. The outstanding cash needed is $21,000 for the building to be completely paid for and for His Haven to acquire ownership debt free. Upon closing, His Haven's additional immediate need will be to replace one component of the boiler system that services the main front structure and recreation hall along with installation of a full commercial kitchen that is up to code with NYS health regulations. "Nothin' says lovin' like somethin' from the oven and His Haven is eager to serve the community hearty, healthy, home cooked meals," says Moss. These projects are both necessary to make the kitchen operational and will cost a combined estimated total of $62,000.
His Haven is calling upon local businesses, community partners and friends of His Haven to help them move forward with the vision the organization has to serve the community in countless ways. His Haven looks forward to having other businesses, volunteers and organizations run alongside them as they move forward and transform lives within the Elmira, NY community.
Updates on the progress of their new "home" and upcoming events where you can volunteer will be posted on their website hishaven.org and His Haven social media accounts regularly. Any funds raised above and beyond what His Haven has listed here will go towards less pressing renovation updates on the building that will be needed moving forward.
CEO, Todd Moss said enthusiastically, "Many hands make light work! Please help His Haven write some happy endings by working together with us to bring more joy to our community!"
You can support His Haven by participating in their Art Auction or by donating at their website: HisHaven.org
All donations are tax deductible.
Release ID: 88985602