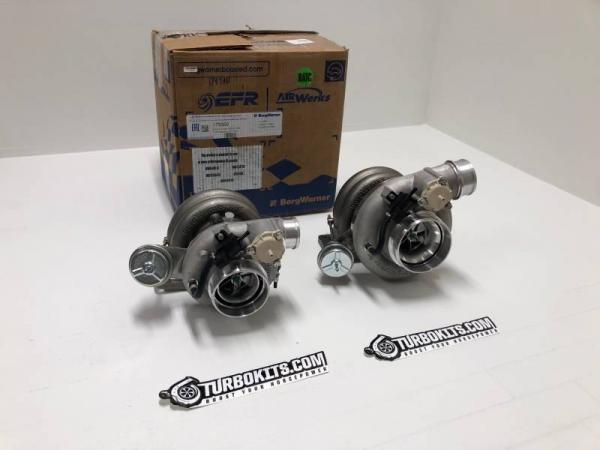 Harwinton,United States - September 7, 2022 /PressCable/ —
The recent expansion adds to TurboKits.com's existing range of turbochargers from popular brands, including Garrett, Precision Turbo, Xona Rotor, and Bullseye Power.
More details are available at https://www.turbokits.com/turbochargers/borg-warner.html
The company, which was founded in 2001, now carries a full line of BorgWarner EFR (Engineered For Racing) turbochargers – currently the most advanced aftermarket turbo designed for performance car enthusiasts.
Each EFR turbocharger in the new range uses a turbine wheel made of titanium aluminum – or Gamma-Ti – a lightweight, high-performance material that approximates a one-to-one turbine to compressor weight ratio and ultimately optimizes turbo response.
One of the turbochargers available with this update is the BorgWarner EFR 6758 T25.85ar IWG, which uses a 67mm OD compressor with a 53.9mm inducer to support a 49lb/min max flow rate. It is ideal for use in single turbo applications in the 250-500hp range or in twin turbo applications with 500-1000+hp.
TurboKits.com now also lists the BorgWarner EFR 9280 T3 83ar IWG which houses a 7-blade extended-tip compressor wheel with a 110 lb/min airflow rate. The largest and highest power EFR turbo provides horsepower gains of 600 to 1000. More details can be found at https://www.turbokits.com/turbochargers/borg-warner/efr_9280_1100hp.html
With the addition of both the largest and smaller BorgWarner EFR turbochargers, TurboKits.com can now provide high-performance vehicle owners with the industry's leading turbo products.
About TurboKits.com
In addition to supplying turbochargers and turbo kits by leading brands, TurboKits.com provides a full fabrication service that includes the design, development, and marketing of turbo systems and related components. The company's team comprises industry professionals with over 40 years of expertise in research and development, procurement, and fabrication.
A spokesperson said: "Expertise in the field, mated with an unwavering commitment to customer support, has emerged as our recipe for success since 2001. Whether you are gunning to shatter a Bonneville Salt Flat record or attain better fuel mileage in your daily driver, TurboKits.com will provide a solution for all your needs."
Interested parties can find more information on the BorgWarner EFR turbochargers line by visiting https://www.turbokits.com/turbochargers/borg-warner/efr_6758_500hp.html
Contact Info:
Name: Jesse Pellegatto
Email: Send Email
Organization: TurboKits.com
Address: 271 Litchfield Rd, Harwinton, CT 06791, United States
Phone: +1-860-676-2929
Website: https://www.turbokits.com

Release ID: 89080798